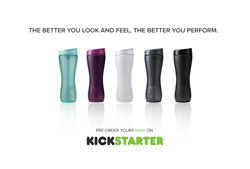 "This is a product we really believe in, and we've invested a lot in turning our dream into a reality."- Gary Moore, Head Designer at TRIMR
Salk Lake City, UT (PRWEB) February 11, 2014
TRIMR today announced that they have launched a Kickstarter campaign to support the debut of their patent-pending Hybrid Water + Shaker Bottle. Funds from the campaign, which runs through February 22nd, will go towards covering tooling costs for the first production run of TRIMR bottles.
The campaign is also serving as a de-facto pre-order for the TRIMR hybrid bottle. Backers who contribute $25 or more to the campaign will be entitled to their own TRIMR hybrid bottle in an array of colors, including mint, plum, white, graphite, and black. Supporters who choose to contribute $1000 or more to the campaign will receive a meet-and-greet with the TRIMR development team, and be treated to dinner in Salt Lake City before embarking on a weekend hiking and rock-climbing excursion to the canyon country of Moab, Utah. The $1000 package also includes the full collection of TRIMR bottles.
The unique TRIMR hybrid bottle marries the best features of high-end water bottles with those of the premier shaker bottles on the market. The result is a highly functional bottle that can adapt to nearly any fitness situation.
The TRIMR bottle has been artfully conceived with functionality and ergonomics in mind. Four specially designed gaskets and overmolds were added in spots that were notoriously leaky in traditional water bottles. After over a year of tweaks and testing, the TRIMR team was able to render their hybrid water + shaker bottle 100% leak-proof. The leak-proof design is complemented by the inclusion of two different drinking options, making it the only bottle in the world to feature both "sip" and "chug" options.
"We are really excited about the response we've received so far," said Gary Moore, head designer at TRIMR. "This is a product we really believe in, and we've invested a lot in turning our dream into a reality. We've got a lot on the line here, but it's worth it to bring something so beneficial and transformative to athletes everywhere."
To pre-order a TRIMR bottle, visit: http://www.kickstarter.com/projects/trimr/trimr-water-shaker-bottle
About TRIMR
Inspired by the belief that the better you look the better you perform, a designer and a marketer set out to prove that this worldview didn't apply exclusively to sports. They believed that better designed products helped them look and feel more confident, and ultimately perform better.
The patent-pending Trimr hybrid water + shaker bottle is the first bottle in the world to combine the best features of a water bottle and a shaker bottle into a single unit. It features both a chug side and a built-in straw option. The ergonomically shaped bottle coupled with a piston-like agitator promises to mix powders and liquid better than any other bottle on the planet.
Trimr is committed to using only the most premium, earth friendly materials available. All Trimr products are 100% recyclable, BPA free and dishwasher safe. For more information please visit http://www.trimrlife.com.