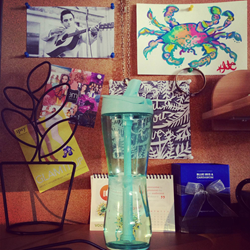 Salt Lake City, UT (PRWEB) April 30, 2014
Trimr today announced the launch of its online store, home to the company's brand new, patent-pending hybrid water + shaker bottles. The first round of production was brought to fruition with the help of a successful fundraising campaign, placing the bottles in the hands of hundreds of eager backers.
Founded by two sports enthusiasts – a product designer and product marketer – Trimr has set out to improve the performance of athletes and everyday people through sleek, functional, and innovative design. Their signature hybrid water + shaker bottle has been a hit with consumers and retailers alike, and have just been made available for purchase on the Trimr website. Current color options include black, graphite, mint, and plum, with more to come shortly.
To celebrate the bottle's early success and give the company's burgeoning fan base an opportunity to stock up, Trimr is offering free shipping with any online purchase of $30 or more. In addition, it will be launching a social media photo contest to encourage Trimr customers to share the ways in which they use the versatile product. Through the month of May, bottle owners are asked to upload a photo of their Trimr bottles in action, whether at home, at the gym, in the office, or on the go. To enter, contestants must:
1. "Like" Trimr on Facebook
2. Upload their photo(s) on Facebook, Instagram, or Twitter
3. Tag @trimrlife and caption it with "#Trimr life is ___ " (fill in the blank)
Trimr will be reposting favorite photo entries as they come in, and the grand prize winner will be announced on June 1st. The grand prize will be a Trimr Water + Shaker Bottle Bundle, including one of each color in the line.
About Trimr
Inspired by the belief that the better you look the better you perform, a designer and a marketer set out to prove that this worldview didn't apply exclusively to sports. They believed that better designed products helped them look and feel more confident, and ultimately perform better.
The patent-pending Trimr hybrid water + shaker bottle is the first bottle in the world to combine the best features of a water bottle and a shaker bottle into a single unit. It features both a chug side and a built-in straw option. The ergonomically shaped bottle coupled with a piston-like agitator promises to mix powders and liquid better than any other bottle on the planet.
Trimr is committed to using only the most premium, earth friendly materials available. All Trimr products are 100% recyclable, BPA free and dishwasher safe. For more information please visit http://www.trimrlife.com.