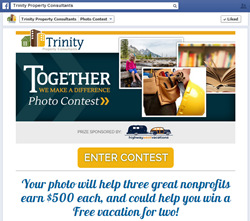 Changing the world can be as simple as entering or casting a vote in Trinity's 'Together, We Make A Difference' Photo Contest
(PRWEB) May 22, 2014
As users add 350 million photos to Facebook every day, Trinity Property Consultants may have found a way to transform all those pictures into real change for its community. By uploading photos to Trinity's "Together, We Make A Difference Photo Contest," people can help raise money for local charities and win great prizes in the process.
Through June 22nd, people can enter the contest simply by submitting their photos through Trinity's Facebook Page, where they'll be automatically entered to win a dream weekend getaway weekend from HighwayWestVacations.com.
After "Liking" Trinity's page, fans and followers can submit photos in three categories: Stepping Up, Living Green, or Hard Hats and Tool Belts. For each photo submitted, Trinity will donate $5 (up to $500 for each cause) to one of three worthy causes: ending world hunger, protecting the environment, or supporting veterans in need.
For every photo submitted to Stepping Up, Trinity will donate $5 donate to World Food Program USA; photos submitted to Living Green will raise funds for the Conservation Fund; and each photo entered under Hard Hats & Tool Belts will result in a donation to Homes For Our Troops.
Trinity, a California-based real estate company, launched the "Together, We Make A Difference" Photo Contest as part of a year-long campaign to raise $60,000 for its three chosen charities. After entering and voting in the photo contest, Trinity residents can continue their support by donating directly when paying their rent online, and learn more about each of the three charities.
Changing the world can also be as simple as casting a vote, thanks to the power of social media. Trinity has also pledged donate $1 every time someone votes for their favorite photos in the Photo Contest, and contestants and fans can make an even bigger impact by sharing the contest through Twitter and Facebook.
Trinity is using a Photo Contest app from cause marketing technology leader CafeGive Social to make it fun and easy for people to enter, vote, and share the contest. With the Photo Contest app, entrants can submit photos and vote directly through Facebook, and encourage their friends to do the same. Trinity fans and followers can even enter and share the contest with their smartphones using the mobile-friendly app.
The app's sharing features make it easy for Trinity fans to tweet and post about the contest, multiplying its impact. As participants share the Photo Contest beyond Trinity's Facebook fanbase, friends and fans can also have a chance to enter. For every person who sees the contest, Trinity raises awareness for the great work that it does in the community, as well as for each of the causes the campaign benefits.
Philanthropy and improving communities is important to Trinity Property Consultants. In addition to having it's own Green Team -an energy services and utility management program focused on energy conservation and sustainability- Trinity is actively committed to improving the lives of its renters and neighbors the world over.
For all three charities that benefit from this contest, the support of an organization like Trinity goes a long way. For the World Food Program USA, each photo entered in the Stepping Up category equals 20 meals for children in need, as a direct result of Trinity's $5 donation. By using the Photo Contest app and the power of social media, Trinity is able to mobilize more of its community than ever before around giving back.
About Trinity Property Consultants: Trinity Property Consultants, LLC ("Trinity") was founded as a multifamily and commercial real estate management firm in Southern California, specializing in successfully managing value-added real estate investments. With advanced repositioning, improved quality of life for tenants, and extended outreach to the community, Trinity has created a higher value and demand for their managed properties. For more information, visit http://www.trinity-pm.com.
About CafeGive Social: CafeGive Social is the only company that combines social media marketing with meaningful, action-oriented cause marketing applications and solutions. Our products and services have helped companies, agencies and nonprofits of all sizes connect with customers to build brand, enhance reputation, and raise awareness and effect social change. Headquartered in Portland, Oregon, CafeGive Social is a privately held company. For more information, visit http://www.cafegive.com.