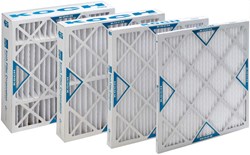 It just makes sense to offer more options to our distributors and homeowners nationwide and keeping their families healthy through improved residential air filtration."
Sanford, NC (PRWEB) February 04, 2014
Trion®, an innovative, international company dedicated to providing quality products for the commercial, industrial, and residential markets since 1947, announced today its expansion of their residential air filtration line of products. The Trion Residential Disposable Filter Program includes pleated, polyester, and fiberglass disposable filters. Trion strives to continue offering its loyal and potential customers a complete line of indoor air quality solutions.
The leader in IAQ, Trion is now offering new, additional filter choices to fit customers' needs in a one-stop-shop vendor option that saves shelf space, freight costs, and ordering time. With distributors cutting back on the amount of vendors carried, now it is possible to add the filter program to the many other IAQ products Trion proudly offers. In the filter program catalog, you will find Trion's residential partner filter program with many typical and special sizes that fit the needs of any home.
"Trion is excited about partnering with its sister company, Koch Corporation, and the expanded filter program. It just makes sense to offer more options to our distributors and homeowners nationwide and keeping their families healthy through improved residential air filtration," says Mitchell Johnston, Director of Residential Sales for Trion.
The new pleated program includes the Multi-Pleat XL8 Mechanical MERV 8 Extended Surface Pleated Panel Filters, a medium efficiency extended surface pleated panel filter, engineered to provide higher initial efficiencies and better overall performance than standard fiberglass and polyester filters.
The Multi-Pleat XL8 is produced with an optimal blend of highly specialized fibers specifically for use in extended surface air filters. They are developed to deliver a "one of a kind" performance, and the specialized media operates on mechanical filtration principles which provide high efficiency, low pressure drop and high dust holding capacity. The rust resistant galvanized-dipped expanded metal support grid is totally laminated to media to insure even pleat spacing and structural support, and the frame is double-walled with reinforced corners to insure rigidity.
The Multi-Pleat XL8 maintains a MERV 8 performance rating before and after conditioning steps when tested in accordance to ASHRAE Test Standard 52.2-2007 and 52.2-2007 Appendix J. The filter will also provide an Initial Dust Spot Efficiency of 39%, and an Average Dust Spot Efficiency of 35-45% in accordance with ASHRAE Test Standard 52.1.
The MERV 8 efficiency ratings provided by the Multi-Pleat XL8 make the filter an excellent upgrade from disposable filters which were designed to protect your HVAC equipment only. Today, Trion's line of MERV 8 pleated filters are designed to improve your overall indoor air quality in the home by removing smaller contaminants and particles which can lead to increased allergies and viruses.
The new disposable program will offer more durability in the field for demanding applications, while offering environmentally friendly construction that is required by most customers. The disposables are economical air filters designed for residential, light-to-medium duty air filtration applications. Available with either Fiberglass or Polyester media, the Trion residential disposable filters utilize a one-piece moisture-resistant craft board frame for strength and ease of installation. The interlocking miter corner provides extra strength and durability. No extra metal support is needed making the disposables environmentally friendly.
About Trion Indoor Air Quality
Trion IAQ is a brand of Air System Components Incorporated. Air System Components is a market-leading supplier of heating, air conditioning, and ventilation system components for commercial and residential applications. The Air System Components (ASC) corporate headquarters in Richardson, Texas, is part of Air Distribution Technologies, Inc.