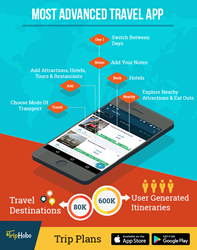 "While few other travel apps might be offering ready-made trip plans, where TripHobo's app gets the edge is, its absolutely dependable logistical information and easy to customize trip planner," said Praveen Kumar, Founder & CEO of TripHobo
Palo Alto, California (PRWEB) October 06, 2016
Aiming to make trip planning an easier task, TripHobo.com has upgraded its mobile app Trip Plans that will squeeze your trip plans and bookings under one app. Available on iOS and Android, this free app enables every traveller to make the most of their vacation.
Offering Customization At Every Step
Unlike other travel apps that are hitting the market, Trip Plans is not just about consolidating information of your flights and reservations but it is also structuring this information to create a visual plan of your travel itinerary which is ready-to-use. Moreover, it is very realistic and customizable in order to suit your preferences.
The app comes extremely handy since travelers have the liberty to add attraction as per their convenience. Planning each day of the vacation is just a finger-touch away with the drag and drop interface. The planner offers detailed timeline of the itinerary which includes best time to visit any place/attraction, duration of the stay, opening-closing time and various transport options.
With an easy-to-follow UI, you can build your trip plan from scratch as per your preferences. If you don't want to get into hardcore trip planning, then you can opt for a suggested trip plan. Purely based on complex algorithms, the app is able to generate a pliable yet comprehensive plan for any desired destination.
The biggest database to plan DIY trips
With Trip Plans, you can plan trips to more than 80,000 travel destinations in the world while the biggest players have about 200 popular destinations or less.
The app has 600,000 user-generated itineraries which can be replicated on the go and aids users if they don't want to go through the process of planning a trip on their own.
Get over the excel sheets, countless travel guides and numerous recommendations for booking hotels; with Trip Plans, you can ditch the conventional ways and replace it with a smarter approach to plan your trips.
Trip Plans serves as a complete trip planning app that offers solutions to all your vacation planning problems under one roof.