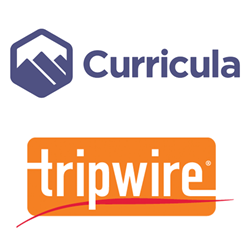 This partnership strengthens our ability to help organizations improve their cyber security culture.
Atlanta, GA (PRWEB) October 14, 2015
Curricula, a cyber security awareness training company, officially announced a partnership with Tripwire, Inc., a leading global provider of advanced threat, security and compliance solutions used by over 9,000 organizations, including more than half of the Fortune 500. The partnership is part of an ongoing effort for Tripwire's NERC Alliance Network. The NERC Alliance Network is a collaborative group of solution providers whose specialty is to serve power and utility companies that are required to comply with NERC CIP Cyber Security Standards. The alliance includes solution providers whose offerings meet Tripwire's high standards for technology, content, and services that help power and utility companies to automate and simplify NERC CIP compliance.
Curricula provides the most effective and innovative educational solution for NERC CIP Compliance Training. Curricula's CIP Training uses story-based learning techniques, breaking down complex CIP compliance topics into relative, easy to understand concepts. "This partnership strengthens our ability to help organizations improve their cyber security culture." said Nick Santora, CEO at Curricula.
Curricula Aware is designed to improve an organization's security culture and increase the effectiveness of security awareness training. The Aware platform automates cyber security awareness by delivering fresh quarterly campaigns with highly focused custom content. Aware's administration dashboard allows organizations to view beautifully designed analytics and campaign performance data.
From their prior experience working at NERC, Curricula demonstrates the art of NERC CIP Compliance expertise. By combining playful imagery with delightful animation, Curricula provides an educational experience that is fun, engaging, and effective. With a comprehensive focus on user experience and attention to detail, Curricula brings cyber security training to life.
About Tripwire
Tripwire is a leading provider of advanced threat, security and compliance solutions that enable enterprises, service providers and government agencies to confidently detect, prevent and respond to cybersecurity threats. Tripwire solutions are based on high-fidelity asset visibility and deep endpoint intelligence combined with business-context and enable security automation through enterprise integration. Tripwire's portfolio of enterprise-class security solutions includes configuration and policy management, file integrity monitoring vulnerability management and log intelligence. Learn more at http://www.tripwire.com, get security news, trends and insights at http://www.tripwire.com/state-of-security/ or follow @TripwireInc on Twitter.
About Curricula
Curricula is a cyber security company focused on improving the design, management, and delivery of cyber security awareness training. Curricula is redefining cyber security awareness training through story based learning, enabling an innovative educational experience like no other. To learn more about Curricula visit http://www.GetCurricula.com or follow @Curricula on Twitter.
###