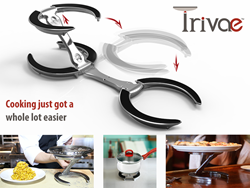 Genius transforming trivet takes to Kickstarter
Omaha, NE (PRWEB) December 17, 2014
Meet Trivae, a one of a kind kitchen tool that serves many purposes. Created for the home cook and professional chef alike, it is part inverted lid holder for cooking, part dual-sized trivet for serving and part display piece for finished dishes at parties.
This patented device is the work of two young entrepreneurs: Svetlana Zhitnitsky of Fairfax, VA and Rebecca Brei of Omaha, NE. "We love finding unique ways to solve common problems, and since we both love to cook, we decided to finally solve the 'where to put the lid while cooking' conundrum. But like so many people, we dislike products that only do one thing, especially in the kitchen where space is such a prized commodity. So we equipped Trivae with many useful features that allow it to go with you from your kitchen to the table. If you are partial to entertaining, it's the perfect way to elevate your dishes to show them off and maximize your display space," says Zhitnitsky.
After nearly three years of refinement and help from five design firms, they have created a fully functional prototype that combines sleek design with intuitive functionality. "We wanted to design a tool that is stylish and imminently useful at the same time. For instance, as a lid holder, Trivae is designed to support inverted lids of any shape or size. All condensation and food particles from cooking are contained, and the lid handle stays within easy reach to minimize the risk of burns. There is nothing like it on the market," says Brei.
Trivae is made of durable cast metal, withstands heat up to 500°F, and holds dishes and lids up to 10 lbs in the Z-shape. Its unique, rotating rings, allow Trivae to transform between functions and to fold flat for easy storage.
In order to help with the high upfront tooling and manufacturing costs, they have turned to Kickstarter. Kickstarter campaigns run on an all or nothing funding model so if the Trivae campaign does not meet its $12,500 funding goal at the end of its 59 day campaign it may not come to market at all. Their campaign is now live at: http://kck.st/1rTl1Ir