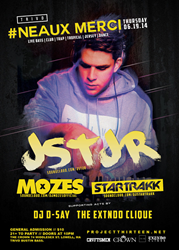 Boston, MA (PRWEB) May 29, 2014
TRIVD, a fashion-based brand originated in Massachusetts, announced their official sponsorship of CRVFTSMEN, a DJ and production group. The two entities have worked on many projects to include ventures in the music, fashion, and entertainment fields over the last year that contributed to the finalization of the sponsorship. The agreement will create exclusive participation of TRIVD events like Trill Wave, a weekly nightlife event in Lowell, Massachusetts for CRVFTSMEN, and custom songs designed for premier TRIVD products by them also.
TRIVD recently completed its exclusive product release event showcasing upcoming designs available next month. TRIVD has also announced a series of events called Neaux Merci which it plans to feature top DJs and producers for entertainment purposes. The kickoff begins June 19, 2014 with JSTJR, DJ Mozes, and Startrakk performing. Supporting acts will feature DJ D.Say and The Extndo Clique.
CRVFTSMEN formally started March 1, 2014 with current members: Mozes, DJ D.Say, Startrakk, G-Made, and Texas. The group began providing popular remixes, original mixes, and creative performances that gained the attention of notable people within the music industry. CRVFTSMEN hired The Brown Group Worldwide® under the oversight of Partner, Ericson Theodat to assist in brand marketing. With this plan in motion the group formed their official brand team currently managed by Leonitus "Tosin" Ajewole. The group is planning the release of their official joint mix featuring all their members.
For information on events and products from TRIVD and affiliated members visit http://www.projectthirteen.net.