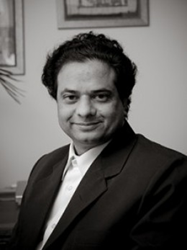 Las Vegas, Nevada (PRWEB) June 28, 2015
Thousands of people consider the Monthly Enhancement Program™ by Trivedi Master Wellness™ to be one of the world's most revolutionary programs designed to perpetuate optimal levels of health, wellness, prosperity, abundance, happiness, improved relationships, better finances and an overall more positive outlook on life. Although it is only one of Trivedi Master Wellness™' introductory level programs, it has become widely popularized in over 40 different countries all over the world and many participants consider the program an essential and integral part of their lives.
Similarly to what the name suggests, the Monthly Enhancement Program™ (or MEP) occurs only once per month, regularly conducted on every third Thursday. However, Mahendra Trivedi and his wife, Trivedi Master™ Dahryn Trivedi, have planned a trip to India in the month of July to further collaborate with several FDA-approved CROs to test The Trivedi Effect®'s influence on stem cells, pharmaceuticals, nutraceuticals and antibiotics in order to create new products for the healthcare industry that are greater in terms of efficacy, bioavailability, drug-delivery and solubility as well as drastically lower in toxicity. Due to the interfering schedules, Trivedi Master Wellness™ has now moved the MEP webinar from July 16, 2015 to July 9, 2015. The time will remain the same: 6:00PM PST / 9:00PM EST.
Although many people are attracted to the program because of the affordable price and the intellectual and illuminating discourses by Mahendra Trivedi on the power of consciousness and how it affects our quality of life, most people flock to the program to receive an "Energy Transmission" from Mahendra Trivedi and Trivedi Master™ Alice Branton. This Energy Transmission is well known to create a phenomenon called The Trivedi Effect®, which has made a substantial and invaluable impact in the world of science and in the healthcare industry.
The Trivedi Effect® is a phenomenon that connects the recipient to Universal Intelligence (referred to by many as Nature, Divine, God, etc.) and raises the recipient's consciousness so they start resonating closer to that of Universal Intelligence. In doing so, the recipient is then able to harness the Infinite Vital Force within the universe, which is capable of transforming everything and everyone in a positive and beneficial manner. Over 200,000 people have experienced The Trivedi Effect® and have reported astounding results, some of which are available at: http://www.triveditestimonials.com.
Mahendra Kumar Trivedi, who discovered The Trivedi Effect® in 1995, has since proven the potential of this energy through the authenticity of over 4,000 science experiments on seeds, trees, plants, agricultural crops, fungi, animals, genetics, bacteria, viruses, cancer cells and human cells. In addition to living organisms, The Trivedi Effect® has also shown great capacity to transform nonliving materials through science experiments on polymers, ceramics, metals, chemicals as well as several pharmaceutical and nutraceutical compounds. All of these studies have resulted in many peer-reviewed scientific international publications in highly reputable journals on Biotechnology, Microbiology, Genetics, Materials Science and Cancer, with many more studies that have been accepted and are in queue for publication. For more information on Trivedi Science™, go to http://www.trivediscience.com.