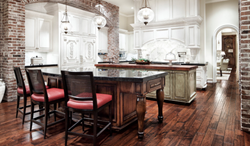 Decor Authority sought to team up with TRIXMEDIA to have help developing their branding and online presence.
Los Angeles, CA (PRWEB) July 23, 2014
Since its establishment in 2003, TRIXMEDIA has built an impressive digital branding company based out of Los Angeles, California. Now, the digital branding, online marketing, and web design company unveiled their newly redesigned website along with new features to their proprietary eCommerce platform. With an impressive roster of clients ranging from startups to corporate giants, TRIXMEDIA prides themselves on the fact that they have gotten the majority of their clients by word of mouth rather than advertising. Their clients range from corporate powerhouse Starbucks and Coca Cola, to Cyrus Artisan Rugs based out of Minneapolis, Minnesota, TRIXMEDIA works across a broad spectrum of industries. Their variety of clients speaks to their creative ability to take on challenges and come up with clever ideas for such different types of businesses. This month, the digital branding company announced their new partnership as a branding consultant for the chic up-and-coming interior design blog, Decor Authority.
Decor Authority sought to team up with TRIXMEDIA to have help developing their branding. Everything from their blog layout and web design, to management of their social media is being handled by the Los Angeles based firm. Since the partnership, Decor Authority's blog has undergone a facelift and has an entirely new look and aesthetic, with the same quality content. For lovers of home decor and design, Decor Authority's interior design blog features articles that offer tips on everything from how to paint walls like a pro, reduce energy usage at home, and compare the pros and cons between laminate and hardwood flooring. The five sections of the blog are divided into the categories of interiors, outdoor, decor, home improvement, and "How-to". The new look of the blog lends to easier navigation and features larger images to appeal to the eyes while still providing helpful posts with substantive information. As their branding consultant, TRIXMEDIA has done a great job re-envisioning their site, and will continue to build up their social media accounts like Twitter and Facebook throughout the summer.
TRIXMEDIA
468 N Camden Dr
Beverly Hills, CA 90210
Phone: (800) 717-8271