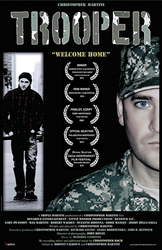 "A film about redemption and love told through the darkness of PTSD".
- Rev. Bill McDonald (Founder The Military Writer's Society of America. Author of "A Spiritual Warrior's Journey")
Brooklyn, NY (PRWEB) September 10, 2013
"Trooper" - a Film About and for Veterans
Not pro-war, not anti-war. It's pro-soldier and it needs your help to survive.
Producers launch Kickstarter campaign: "Please help us reach our goal so we can self-distribute and make our film available to veterans and the public."
Visit our Kickstarter link here and pledge:
http://www.kickstarter.com/projects/943465241/trooper-a-film-about-and-for-veterans
Christopher Martini wrote/directed/starred in, the Award-Winning Feature Film, Trooper, about a father and son helping each other heal the wounds of war, which screened at the Garden State Film Festival, and garnered Christopher Martini the "Renaissance Man Award" in 2010. Martini plays Murphy O'Shea, an Iraq Veteran that has a hard time re-adjusting to society upon his return from a long tour. His world crumbles when he discovers his father, Bill, a Vietnam Veteran, is dying.
"Trooper" was inspired by Christopher's editing of a documentary on veterans. Combing through hours and hours of combat footage, and interviews with veterans, Chris was profoundly struck by the hard fact that veterans were not being taken care of, upon their return from combat. By telling the story through the lens of a father-son narrative, two generations of soldiers--the father is a Vietnam veteran dealing with his own issues--Chris was able to tell the story of many generations of veterans, dealing with the same problems of trying to re-adjust after combat, dealing with the bureaucratic maze which is the Veteran's Administration, to get proper health care and treat combat-related illnesses. By telling the "real" story of veterans "coming home", Chris was able to offer hope to returning veterans, the film evidence that their suffering is not in vain, that we "get it", and we "have your back".
Now, it is Chris' mission to make his film available to veterans and the public, to even use the film as a training aid at the VA, after the suggestion of a few of his veteran supporters.
Trooper is a film that shows the real problems facing veterans, and has the potential to educate the public about these important issues. And with this education, public pressure could bring changes in governmental policies in the Veterans Administration, and could save lives.
Award winning director Christopher Martini http://www.triplemartiniproductions.com/, and Award winning cinematographer, John Rotan. The film stars Christopher Martini, his brother Max Martini "Saving Private Ryan" "Pacific Rim" "Captain Phillips", Robert Walden "All the President's Men", Jerry Della Salla, Iraq veteran and actor "The Green Zone", Gary Swanson "The Bone Collector", and Kevin Mambo "Cadillac Records".
The "Trooper" Kickstarter Campaign: "Trooper" has done very well on the festival circuit, garnering an award at Garden State Film Festival, as well screening at Philadelphia Independent Film Festival, and the Voice Awards in Los Angeles, for films dealing with mental health, SoCal Film Festival, where it received Honorable Mention. The screenplay was a semi-finalist at the Rome Independent Film Festival. The film has screened also at multiple veteran organizations where it has received rave reviews from veterans of all wars; The Military Writer's Society of America, the 101st Airborne "Snowbird" Reunion, Gulf War Veterans Reunion (Ross Perot in attendance), Iraq and Afghanistan Veterans at NYU and John Jay College of Criminal Justice. The film has additionally received the musical support of Bruce Springsteen and Bob Dylan, who each gave one song for use in film festivals. At present the film has not received a distribution deal and the producers are busy in the middle of their Kickstarter campaign to raise the necessary funds to self-distribute the movie, and are asking the public to pledge their support and share the following link with as many people as possible.
Link to the "Trooper" Kickstarter campaign:
http://www.kickstarter.com/projects/943465241/trooper-a-film-about-and-for-veterans
"This movie is neither for the war or against it. It is 100% for the troops."

Christopher Neff, Former Lance Corporal, USMC, Infantry OIF 2003-2005
"Someone once said that 'War is Hell' referring to the actual combat situation. Many times the hell begins after the tour of combat is over. Chris has done a great job portraying that in Trooper... In watching the film the combat veteran realizes that he is not alone in his struggle and those around him understand a little better why he is as he is. Now let the healing begin."

Ed Beesley, USMC, Vietnam Veteran and author of Lucky Enough
To see the Official Trailer, visit:
http://www.youtube.com/watch?v=OTE-NG7BBhQ
For more information, visit:
https://twitter.com/Trooperthefilm
https://www.facebook.com/TROOPER.film.about.veterans?ref=ts
http://www.triplemartiniproductions.com/trooper/
http://triplemartiniproductions.tumblr.com/
http://pinterest.com/christopher3mar/trooper-kickstarter-campaign/
Contact: Christopher Martini
Email: triplemartiniproductions(at)gmail.com