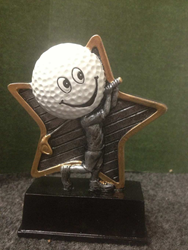 I have worked with a number of other trophy companies and she is, hands down, the best ever! I will only use her in the future. - Bo Honnert
Cincinnati, OH (PRWEB) July 31, 2014
Trophies East, Cincinnati, is pleased to announce the addition of a new piece of equipment which will expand their already successful trophy business by allowing them to engrave on multiple types of surfaces.
"The new, high-tech equipment gives us the capabilities of engraving on all types of surfaces. It is so precise people have even engraved on a potato chip! While that is not the norm, it does expand the breadth of what we do and allow us to be even more customized in what we provide to our clients," said Beth Cooke, owner of Trophies East, Cincinnati, OH.
Trophies East has been in business for six years, catering to schools, non-profits, all types of sports teams, and some corporations. With the addition of the new laser engraver, corporate awards and plaques will become a larger portion of her business. This gives them more flexibility to engrave photos, detailed logos and custom designs. Trophies East is known for their personalized service, working with each client individually to create exactly what they need and delivering it when they want it.
"Flexibility has always been a huge part of what we do. We cater to the needs of our clients—after all, it's really all about them," Beth Cooke said. "When we had a customer who wanted a Corn Hole trophy created, I actually hand-made a miniature corn hole bag and attached it to the trophy!"
It is this kind of service that her clients have come to appreciate. On another occasion, Beth delivered a number of sports awards to a middle school group. One of the boys was so excited to receive his trophy that he dropped it as he was leaving the stage and broke it! Beth was able to duplicate the trophy and have it back in them in a few days.
Bo Honnert, athletic director for the Forest Hills Athletic Club, Youth Football and Cheer groups, said, "I did nothing when it came to my awards. I gave Beth the ideas, told her what I wanted and she delivered an excellent product—210 plaques! I have worked with a number of other trophy companies and she is, hands down, the best ever. I will only use her in the future."
There is just something special about getting an award, a trophy or even something personally engraved. From baby gifts to wedding gifts, thank you gifts for wedding parties and plaques for doing a great job, people love awards. Starting in pre-school sports, children receive trophies for all the sports in which they participate. While the practice of providing a trophy for kids who are just "average," has been criticized, Beth upholds the idea. "There are some kids who will never win a first place trophy. But that doesn't mean they don't work their tails off just as hard as the first or second place player does. Encouragement of any type means a lot to child, and a trophy is the ultimate award."
Speaking of tails, Trophies East has provided a number of gag awards featuring the back end of a donkey with words which epitomize what the recipient means to the giver. Whatever type of award or trophy needed, Trophies East can deliver. And the new laser engraver will provide even more opportunities for custom and unique personalization.
For more information about Trophies East, visit their Facebook Page at https://www.facebook.com/TrophiesEast.
Contact:
Beth Cooke
513-752-7189