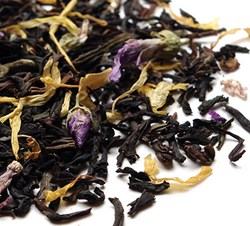 ...I might be wearing a down coat, but the tropical teas remind me that summer is coming!
Boulder, CO (PRWEB) March 24, 2014
The Tea Spot announces the introduction of a new collection of premium loose leaf tea. These Tropical Teas, inspired by warm nights and sandy beaches, are micro-blended with the intent to produce refreshing blends that provide an exotic escape for the soul.
The Tea Spot's Tropical Teas are thoughtfully blended with tropical fruits and aromas such as passion fruit, mango, coconut, ginger, and blood orange citrus. This selection of premium gourmet teas can be made as iced tea or hot, with rich, smooth flavors that provide an ideal introduction to loose leaf tea. The Tea Spot sources the finest loose leaf green teas, black teas, oolong teas, and caffeine-free herbal teas for this tropical collection. They specialize in handcrafted signature blends to create a sophisticated flavor experience for gourmet tea drinkers.
The company's wholesale tea buyer, Elise Ridgway, commented on the announcement: "On cold days in what seems to be a never-ending winter, I like to cuddle up with a cup of Mango Tango and dream of laying on a beach somewhere. I might be wearing a down coat, but the tropical teas remind me that summer is coming!"
The entire Tropical Tea collection is available immediately, for both retail and wholesale. Teas can be purchased from their online tea store, TheTeaSpot.com.
The Tea Spot's Tropical Tea set includes ten loose leaf gourmet teas:
Big Chill, a naturally sweet caffeine-free hibiscus mint tea with licorice root, equally perfect for hot or cold brewing;
Blood Orange Smoothie, a creamy blend of naturally caffeine-free rooibos with citrus and a hint of vanilla;
Coconut Cabana, an aromatic large leaf coconut oolong tea blended with shaved coconut, produces a premium dessert tea;
Ginger Peach, a premium rendition of an American favorite, with two types of black leaf teas and real ginger root;
Organic Hibiscus Petals, full leaf tart and exotic hibiscus petals that steep into a deep red, full-bodied, caffeine-free refresher;
Mango Tango, a fresh twist on a classic tropical black iced tea, with Ceylon tea, mango and passionfruit;
Peppermint Tea, a fresh leaf, U.S. grown, aromatic caffeine-free classic mint tea, a traditional digestif tea;
Pink Rose Lemonade, a blend of flowers chamomile and rose petals with a hint of lemon and spearmint;
Spearmint Tea, a bright and refreshing naturally sweet caffeine-free mint tea, also a natural digestif tea;
and Strawberry Fields, a kid-friendly naturally caffeine-free fruit tea with dehydrated strawberries, cranberries, hibiscus, blueberries, cherries, and more.
About The Tea Spot: The Tea Spot is a leading producer of handcrafted loose leaf teas and creator of Steepware®, the housewares tools that make loose tea easy. The company's vision to modernize the loose leaf tea experience has held steadfast since the for-profit philanthropic company was founded by Maria Uspenski in 2004, a cancer survivor drawn to the health benefits of leaf tea during her recovery. Her message is simple and powerful: tea in its freshest form renders premium flavor, unmatched health benefits, and is eco-friendly. The Tea Spot's model of social entrepreneurship incorporates its mission to foster health and wellness through loose leaf tea, with its 10% Pledge. Ten percent of the company's sales are donated in-kind to cancer and community wellness programs. The Tea Spot is a Boulder, Colorado-based woman owned and operated business.