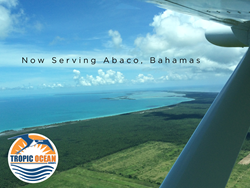 Our team provides exceptional service making your trip seamless and efficient. A dedicated guest relations agent will greet you at our private terminal and will assist you with your check in, baggage and walk you to your flight
Fort Lauderdale, FL (PRWEB) November 23, 2015
Florida's premiere seaplane operator, Tropic Ocean Airways, is pleased to announce the launch of twice weekly scheduled flights to two locations on the beautiful Abaco Islands, Bahamas. Commencing in December 2015 and departing from Sheltair at Fort Lauderdale/Hollywood International Airport, services will be available to the popular towns of Marsh Harbour and Treasure Cay.
Tropic Ocean Airways is listening to the needs of its customers and adding Marsh Harbour and Treasure Cay to its ever expanding list of destinations serving the Bahamas and South Florida. Passengers will fly in style, on a price per seat rate, in one of Tropic Ocean Airways wheeled aircraft offering luxury cabin interior and fast runway to runway travel.
Scheduled flights from Fort Lauderdale to Marsh Harbour will commence on 16 December 2015 and will fly on Wednesday and Saturdays.
Flight times for both Wednesday & Saturday:-
Depart FLL at 13:00 – arrival MHH at 14:18.
Depart MHH at 15:06 – arrival FLL at 16:24
Tropic Ocean Airways route from Fort Lauderdale to Treasure Cay will be a Monday and Friday service and will commence on 18 December 2015.
Flight times for both Monday & Friday:-
Depart FLL at 12:00 – arrival TCB at 13:12
Depart TCB at 14:00 – arrival FLL at 15:12
The beautiful towns of Marsh Harbour and Treasure Cay will be popular additions to Tropic Ocean Airways destination list. Enjoying calm waters, warm breezes and panoramic beauty, the resorts of the Abaco Islands will be accessible to both visitors and residents direct from Fort Lauderdale with a flight time of just 1 hour 20 minutes.
Tropic Ocean Airways prides itself on offering guests a premium travel experience. Trusted and caring reservations and customer service teams put the needs of their clients first and provide a personal service to make travelling relaxing and enjoyable.
Tropic Ocean Airways founder and CEO, Rob Ceravolo commented "Our Tropic team provides exceptional service making your trip seamless and efficient. A dedicated guest relations agent will greet you at our private terminal and will assist you with your check in, baggage and walk you to your flight".
Since Tropic Ocean Airways was founded in 2009, the airline has experienced huge and rapid growth. The versatile aircraft fleet has expanded to include both wheeled and amphibious aircraft to enable landing on both land and sea. The range of services offered by Tropic Ocean Airways includes scheduled and private charter flights, cargo flights and yacht provisioning services.
For further information on scheduled flights to Marsh Harbour and Treasure Cay or information on the services provided by Tropic Ocean Airways please visit http://www.flytropic.com
About Tropic Ocean Airways:
Tropic Ocean Airways was founded by Navy Topgun fighter pilot Rob Ceravolo in 2009. As an FAA certified air carrier, the tropic family consists of experienced pilots, first-class sales center, and in house maintenance facility. Pilots with over 100+ years of combined flying experience operating in tropical and harsh environments make Tropic Ocean Airways a safe airline. Tropic Ocean Airways offers private charters to The Bahamas and throughout Florida and the Keys. Seaplanes are amphibious and able to perform water based, or runway landings and departures.
Contact:
For Reservations or General questions Contact our Reservations Team 1-800-767-0897 reservations(at)flytropic(dot)com
For Media contact media(at)flytropic(dot)com
Website: http://www.flytropic.com