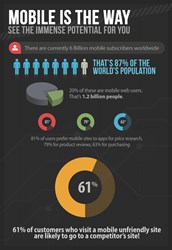 Targeting mobile devices is quickly becoming the most effective way to reach new customers and only a small number of companies have realized the marketing opportunities that the rapid growth of the mobile world offers to them
Honolulu, HI and San Diego, CA (PRWEB) October 31, 2013
The Resource Partners, a digital marketing company with offices in Honolulu, HI and San Diego, CA, offers businesses across the US a comprehensive package of mobile marketing strategies, products and services.
"Targeting mobile devices is quickly becoming the most effective way to reach new customers and only a small number of companies have realized the marketing opportunities that the rapid growth of the mobile world offers to them", says Gerd Graumann, president and founder of the company.
The Resource Partners provides a marketing audit to identify the strengths and weaknesses of a company's digital marketing strategy and outlines a step-by-step plan how to implement some changes to drive new and repeat customers into the business. This includes a mix of mobile, SMS, search engine and social media marketing, mobile apps, web design and client branding.
"Embracing digital marketing has transformed our roofing business. Implementing the strategies suggested by The Resource Partners helped us to drive significant revenue growth" said Frank Rogers, President of Leakmaster Roofing in Honolulu, HI
Mobile devices have become so sophisticated that many consumers are now using them as their exclusive research tool to quickly find a local business for what they need. People search, call, visit the store and become a customer, all within just hours. For companies, especially local retailers and service providers, mobile devices are becoming the new storefront and having an effective mobile marketing plan is becoming essential to company growth.
To learn more about The Resource Partners' mobile marketing vision and services, visit the company's website at http://www.theresourcepartners.com
About The Resource Partners:
The Resource Partners is a digital marketing company with offices in Honolulu, HI and San Diego, CA, and specializes in providing affordable internet services and solutions that let clients effectively leverage their investment in the digital world.
Contact:
Gerd Graumann
The Resource Partners
gerd(at)theresourcepartners(dot)com