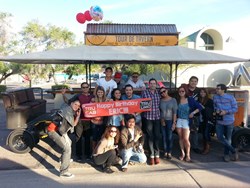 "Tour de Tavern is excited to be partnering up with Tru Cab because they share the same commitment to providing excellent service to their customers, and helps ensure our customers get home safely after their tour is over."
Scottsdale, AZ (PRWEB) January 30, 2014
Local transportation provider Tru Cab has partnered with Tour de Tavern to provide a safe ride home for their guests. Tru Cab and Tour de Tavern, both based in Old Town Scottsdale, find it a perfect match to be working together. After Tru Cab co-owner Eric Mulvin experienced Tour de Tavern first hand from a birthday gift from his wife, he knew the two businesses would be a great fit to work together.
After sobering up, Mulvin had this to say, "Our drivers are some of the best in the Phoenix area and are very experienced at handling intoxicated customers, plus we're all about the experience at Tru Cab. After they are finished with the tour, we want the ride with Tru Cab to be an extension of their tour, not the boring end to it."
Inspired from similar bikes in Amsterdam and the Netherlands, Tour de Tavern allows you to rent the bikes, along with a driver, by the hour, with a 2 hour minimum. Topping out at speeds of 5 to 7 miles per hour, you'll create great memories with your friends as you bike from bar to bar in Old Town Scottsdale.
Tour de Tavern co-owner Brandon Holve is no stranger to working out partnerships with local businesses. Tour de Tavern has drink specials set up with local favorites such as Dos Gringos, Old Town Tavern, Brat Haus, Gilligan's Bar and more. The result is many guests unable to drive home at the end of the tour. Hoyle added, "Tour de Tavern is excited to be partnering up with Tru Cab because they share the same commitment to providing excellent service to their customers, and helps ensure our customers get home safely after their tour is over."
Tru Cab already has a special offer for Old Town that is a perfect fit with Tour de Tavern. For only five dollars, Tru Cab offers cab rides anywhere between Chaparral Road to Thomas Road and from 64th Street to Hayden Road. The only limitation is on Friday and Saturday nights after the bars close.
If Tour de Tavern guests wish to continue enjoying everything Old Town Scottsdale has to offer, they can continue on with Tru Cab for only five dollars per ride. In addition, they can also call and request the 7 passenger golf cart as a transportation option as well within Old Town.
Aside from bringing guests home safely, Tru Cab will also offer discounted round trip transportation in any of their signature red taxi cabs, or in a luxury vehicle with its sister company Tru Limo to bring customers to and from Tour de Tavern. Everyone picked up by Tru Cab will also receive a commemorative shot glass to help them remember, or forget their experience.
For more information about Tour de Tavern and to book a tour, visit TourDeTavern.com or call (480) 299-4182. For more information about Tru Cab or to schedule a cab ride, visit TruCab.com, download the Tru Cab app for your smart phone or call (480) 300-5000.
About Tru Cab
Tru Cab LLC was founded by Eric Mulvin and Larry Loe in 2011 in Old Town Scottsdale. With an emphasis on customer service, technology, honesty and taking care of the drivers who make up the face of Tru Cab, Tru Cab's goal is to redefine what people think a cab ride should be like. Based in the East Valley but offering Valley wide service from Glendale and Peoria all the way to Mesa, Chandler, Gilbert and of course Scottsdale, Tru Cab is quickly expanding. Tru Cab also operates Tru Limo AZ, which provides luxury transportation. Customers can book via http://www.trucab.com, with the Apple or Android Tru Cab app or by calling (480) 300-5000. For more information on Tru Cab please visit http://www.trucab.com.
Media Contact:
Eric Mulvin
3260 N Hayden Rd.
Suite 210-329
Scottsdale, AZ 85251
(480) 300-5000
press(at)trucab(dot)com
http://www.trucab.com/press