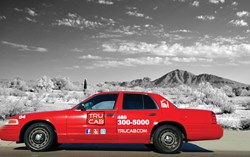 I already help all my regular customers with their bags and groceries, opening their door, making sure the cab is the right temperature regardless of how old or young they are.. - Vito, Tru Cab driver
Scottsdale, Ariz (PRWEB) January 31, 2014
In an effort to help serve the growing senior population in metropolitan Phoenix, Tru Cab is reaching out to senior based businesses and communities to let them know about customer focused cab service. Since 2009, Phoenix was ranked as the top destination for the 55 and up population who are moving to new areas. If you've lived in Phoenix though at least one winter, that should be no surprise.
Many seniors come from areas where they were reliant on public transportation such as New York or Chicago where most residents don't drive or own a vehicle. In addition, due to the economy, there are a lot of seniors who are on fixed income and can't afford their own vehicle. Car ownership can be a burden for the Phoenix senior population because many typically just need to pickup groceries, or go to the doctor. Due to Phoenix's extreme summertime temperatures though, it can be too hot to wait thirty minutes for the next bus or walk the few blocks to the closest bus stop.
Tru Cab plans to fill the need for senior transportation by making more cabs available in the day time hours when demand from seniors is the highest. Tru Cab has also initiated a training program that all their drivers are in the process of going though to make sure seniors are getting the extra care they deserve. Tru Cab's co-owner Eric Mulvin also mentioned that "the seniors also love that we always have a live person answering the phone." Citing personal experience, Mulvin added "I used to work answering calls for a bank in Downtown Phoenix and every day there would be over a dozen customers that would complain about the computer prompts on the phone, so it was an easy decision to not have a computer phone system."
Veteran Tru Cab driver Vito Lambarti discussed his success in serving the senior population, "I already help all my regular customers with their bags and groceries, opening their door, making sure the cab is the right temperature regardless of how old or young they are, they just need a little extra help but they are always happy to see me so I enjoy driving them."
Besides additional training, Tru Cab recently started working with the City of Scottsdale to accept their Cab Connection vouchers, a program aimed at helping the senior population in Scottsdale make vital trips to the doctors office or grocery store. Mulvin has been pleased so far in that partnership, already he has "spoken to a few customers on the phone who called just to tell me how much they appreciate a certain driver, or how helpful their driver was, it's heart warming to hear how their ride with us made their entire week!"
Tru Cab already has it's sights set on seniors beyond the borders of Scottsdale. Tru Cab has started working with the newly opened Sunset Assisted Living in Chandler, AZ where they will be providing transportation for their residents. Facility manager Teresa Dabu appreciates the service Tru Cab provides. "We are a smaller facility and need to be in the home caring for our residents, we know they will be properly taken care of and they return back happy and most importantly safely when we use Tru Cab," Dabu added.
Scottsdale residents who are part of the Cab Connection program just have to call (480) 300-5000 to schedule a ride and turn in their voucher to their driver after the ride is complete.
About Tru Cab
Tru Cab LLC was founded by Eric Mulvin and Larry Loe in 2011 in Old Town Scottsdale. With an emphasis on customer service, technology, honesty and taking care of the drivers who make up the face of Tru Cab, Tru Cab's goal is to redefine what people think a cab ride should be like. Based in the East Valley but offering Valley wide service from Glendale and Peoria all the way to Mesa, Chandler, Gilbert and of course Scottsdale, Tru Cab is quickly expanding. Tru Cab also operates Tru Limo AZ, which provides luxury transportation. Customers can book via http://www.trucab.com, with the Apple or Android Tru Cab app or by calling (480) 300-5000. For more information on Tru Cab please visit http://www.trucab.com
Media Contact:
Eric Mulvin
3260 N Hayden Rd.
Suite 210-329
Scottsdale, AZ 85251
(480) 300-5000
press(at)trucab(dot)com
http://www.trucab.com/press