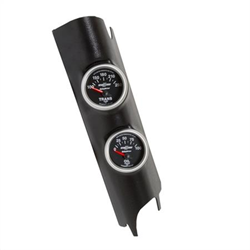 This kit offers the ability to measure two key areas of our customer's Jeep JKs while providing a look that is as close to factory as is available by anyone in the aftermarket
Compton, CA (PRWEB) November 11, 2014
4 Wheel Parts has a new, exclusive product for 2011-2014 Jeep JK owners in answer to the call for a way to monitor the JK's oil pressure and transmission temperatures: the Auto Meter Jeep JK Gauge Kit. After helping to develop the Jeep JK gauge and mount package with Auto Meter, 4 Wheel Parts is offering its customers this new product line amidst their expanse of Jeep and truck accessories.
Many Jeep JK owners use their vehicles for off-roading, which is notoriously hard on an automatic transmission and it can be difficult to keep the transmission cool when traveling at low speeds over rugged, dirt terrain. The Auto Meter transmission temperature gauge kit can help prevent transmission problems and costly repairs down the road by allowing Jeep JK owners to monitor their transmission temperature as they drive instead of not knowing there is a problem until the warning light comes on and it is too late. Similarly, the oil pressure gauge can help drivers constantly monitor oil pressure and detect problems before they become expensive repairs.
"We're excited by the new Jeep JK gauge and pillar kit, developed exclusively for 4 Wheel Parts," says Ahad Mirza, Brand Manager-Merchandising at 4 Wheel Parts. "This kit offers the ability to measure two key areas of our customer's Jeep JKs while providing a look that is as close to factory as is available by anyone in the aftermarket".
Included with the Jeep JK gauge kit is a 2 1/16-inch Sport-Comp II oil pressure gauge and automatic transmission temperature gauge. Both are electric, so no oil is routed into the vehicle, and use LED lighting and illuminated pointers. The gauge kits come with a black Auto Meter Dual A-pillar mount, which can be painted to match the interior of the Jeep and snaps into place for easy installation in minutes.
Auto Meter offers a wide range of gauges, gauge mounts and gauge packages for all vehicles types, be they trucks, Jeeps or SUVs, but the new 2011-2014 Jeep JK Wrangler gauge package is available only at 4 Wheel Parts. The Auto Meter line features mounts and gauges to fit all system monitoring and vehicle needs.
About 4 Wheel Parts: 4 Wheel Parts is a retailer specializing in aftermarket parts for off-road and 4x4 enthusiasts. With 64 locations in North America, 4 Wheel Parts installs all the products it sells while also operating a robust mail-order and e-commerce distribution network to serve customers around the country and around the world. 4 Wheel Parts carries North America's largest inventory of truck and Jeep parts including running boards, catalytic converters, mud flaps and more. Their toll-free order number is 877-474-4821.