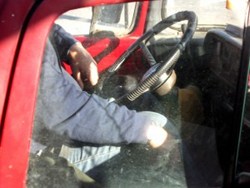 Failure to maintain logs of hours worked and rest breaks taken can result in fines of up to $11,000 for trucking firms and $2,750 for individual drivers per violation
New York, N.Y (PRWEB) August 02, 2013
Truck drivers will have to rest more than they did before, according to a new federal rule that will cap truck drivers' workweeks to 70 hours instead of the previous maximum of 82 hours. According to a July 1 news report in The Wall Street Journal, the changes will not only shorten the workweek for truck drivers, but also place restrictions on how many nights truckers can be on the road and require rest breaks during the day. Obama administration officials say that these rules will help reduce crashes caused by sleep-deprived truck drivers, the article stated.
The rule will also stipulate truck drivers and trucking companies to diligently maintain logs of hours worked and rest breaks taken, according to the article. Failure to do so can result in fines of up to $11,000 for trucking firms and $2,750 for individual drivers per violation, the report states. Even as government officials state that the new regulations will save more lives and prevent truck accidents caused by fatigued drivers, truck firms and drivers say they stand to lose money because of the reduced hours, the article states.
Driver fatigue is often a significant issue in truck accident cases, said New York personal injury lawyer Kenneth A. Wilhelm. "A sleepy driver is, of course, more likely to lose control of a vehicle and cause a crash. Hopefully, these new regulations will help prevent large truck accidents that result in catastrophic injuries or even deaths."
Driver hours-of-service logs often play a crucial role in determining fault and liability in truck accident cases, Wilhelm said. "An experienced truck accident lawyer will look to promptly preserving driver logs as they are an important piece of evidence in truck accident cases. Securing these logs can help bolster a claim and get to the facts of the incident."
About the Law Offices of Kenneth A. Wilhelm
The Law Offices of Kenneth A. Wilhelm is a personal injury litigation firm with an unwavering dedication to its clients. With more than 41 years of experience, our firm strives to obtain the best compensation for those who have been injured or those who have lost a loved one due to an accident or by someone else's negligence. We handle cases dealing with personal injury, medical malpractice, wrongful death, workers' compensation, dental malpractice, motor vehicle accidents, rape, paralysis, comas, seizures, false arrest, lead poisoning, trips and slips and falls, elevator accidents, construction accidents, Erb's palsy, cerebral palsy, brain damage, blindness, hearing loss, dog bite cases, fire and smoke inhalation accidents, bicycle accidents, falls from windows or scaffolds, and many other types of accidents and injuries.
Please contact us toll free 24 hours a day, 7 days a week at 1-800-WORK-4-YOU (1-800-967-5496). We can even come to you. There is no attorneys' fee unless we recover money for you. We can also help with personal injury cases in New Jersey, Connecticut, Pennsylvania, or Florida. If you have been seriously injured in any of the 50 U.S. states, please call us and we will try to help you with your case.
Other TOLL FREE phone numbers for us are:
1-800-RADIO-LAW, 1-888-WYPADEK, OR 1-800-LAS-LEYES
The Law Offices of Kenneth A. Wilhelm
445 Park Ave, 9th Floor
New York, NY 10022
(212) 545-7373
Please visit us at: http://www.WORK4YOULAW.com