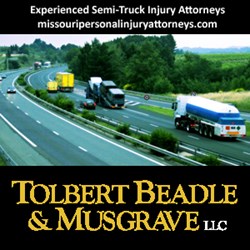 Tell them you mean business.
Jefferson City, MO (PRWEB) September 21, 2013
Large truck accidents are responsible for 80,000 injuries per year and over 3,000 fatalities per year based on the latest data from the National Highway Traffic Safety Administration. Due to the forces involved, many of the injuries are severe and life-altering. Paralysis, brain injury, amputations, burns and constant pain are all commonplace injuries for the victims of a semi-truck collisions.
Hospitals and emergency room doctors do an amazing job treating these serious injuries, but those treatments often come with a high price tag. Victims of large truck accidents are often confused about what their rights are, how to establish fault in the accident, or how bring a lawsuit against a negligent driver or trucking company. They are further confused about which personal injury attorneys are the best and most reputable to work with and aren't sure if all auto injury attorneys in Jefferson City MO also take cases involving commercial vehicles.
Although primarily serving semi-truck injury victims in Missouri, Kansas and Illinois from their office in Jefferson City MO, the attorneys of Tolbert, Beadle & Musgrave LLC have created a resource guide available to anyone injured in a tractor trailer collision to answer some of the most common questions that arise after an accident. The resource page is divided into the following sections:
1) Common Injuries Sustained in Semi-Truck Collision Accidents
2) Statistics on Truck Accidents
3) Common Causes of Large Truck Accidents
4) How Large Truck Accidents are Investigated?
The partners of Tolbert Beadle & Musgrave LLC hope that the resource page will help victims ask the right questions after an accident and help them select the right semi-truck injury accident lawyer.
About Tolbert Beadle & Musgrave LLC
Tolbert Beadle & Musgrave LLC is a Missouri-based law firm that only serves accident victims. The partners surround themselves with a network of experts that enables Tolbert Beadle & Musgrave LLC to support personal injury cases of all types, from drunk driving accidents, to slip and fall, to Social Security Disability insurance claims. The lawyers are experienced trial attorneys that know how to negotiate a top settlement and achieve the best possible jury verdicts.
In addition to the tough-minded negotiation the lawyers provide, a network of medical experts, auto accident scene reconstruction experts and financial professionals helps clients build the strongest case possible.
Contact:
Terry Tolbert, Partner
http://missouripersonalinjuryattorneys.com
Tolbert Beadle & Musgrave LLC
612 E Capitol Ave
Jefferson City, MO 65101
(573) 635-0811