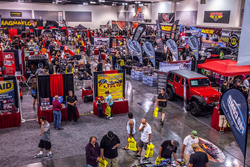 As the largest trade show of its kind, we're proud to have created something so unique for our customers and the off-roading community
Compton, CA (PRWEB) March 06, 2015
4 Wheel Parts, the global leader in off-road aftermarket performance product sales and installation, is heading straight into the heart of Honolulu this weekend, March 7-8 for the second edition of its 2015 Truck & Jeep Fest tour. The largest touring show of its kind in the world, Truck & Jeep Fest spans seven months and eight cities as it tours the U.S. and Canada, bringing the off-road community together for custom truck and Jeep displays, hourly giveaways and factory-direct pricing on top products like all terrain tires, lighting accessories, performance parts and more.
The 2015 Honolulu Truck & Jeep Fest will be held at the Neal S. Blaisdell Center located at 777 Ward Ave. Honolulu, HI. Doors are open from 10 a.m. to 4 p.m. Saturday, March 7 and from 11 a.m. to 4 p.m. Sunday the eighth. Admission is free.
"As the largest trade show of its kind, we're proud to have created something so unique for our customers and the off-roading community," says Greg Adler, president and CEO of 4 Wheel Parts. "We're looking forward to having the opportunity to interact with enthusiasts as they come in to check out the vehicles and displays, meet with vendors and take advantage of some of the best deals of the year."
In addition to the Honolulu event, Truck & Jeep Fest visits cities throughout North America including San Mateo, California, Edmonton, Canada, Puyallup, Washington; Dallas, Texas; Ontario, California; Denver, Colorado; Atlanta, Georgia and Orlando, Florida with an additional customer appreciation event in Columbiana, Ohio.
The distinctive event provides the diverse community of truck, Jeep and SUV owners and enthusiasts the opportunity to engage with factory representatives from the industry's top brands while having the opportunity to take advantage of unique show pricing. Admission is always free and 4 Wheel Parts ASE-certified technicians are able to install any product on the shelves, so customers may have their purchases installed on the spot.
The Honolulu Truck & Jeep fest will have plenty of event-exclusive discounts, ranging from a free t-shirt for the first 100 people through the door with the printable coupon to up to 75% savings on scratch and dent items. Additional sales and discounts include hourly giveaways, installation discounts and factory-direct pricing on their extensive selection of on-site inventory.
In addition to having manufacturer representatives on hand to answer questions about parts and accessories, the event will feature informative product demonstrations to allow attendees to see many products in action before making a purchase.
4 Wheel Parts has built a strong foundation in excellent customer service and quality products. They are a company of experts and enthusiasts, dedicated to providing the best products at the best prices. Not only is 4 Wheel Parts the global leader in aftermarket parts and installations, they provide a wide range of lifestyle products and gear, like camping tools, rooftop tents and solar power generators.
About 4 Wheel Parts: 4 Wheel Parts is the global leader in off-road, Jeep and aftermarket performance products. With 68 locations across the US and Canada and growing, 4 Wheel Parts Service Centers install all the products they sell. With the nation's largest inventory of off-road tires, truck wheels, lift kits and Jeep accessories, 4 Wheel Parts serves customers across the country and around the globe. Life is Better Off-Road™.