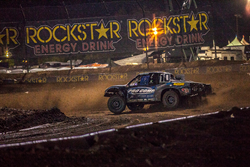 We're gonna continue working hard … so stay tuned!
Compton, CA (PRWEB) August 21, 2014
4 Wheel Parts, global retailer of aftermarket Jeep and truck accessories, will be cheering on their CEO, off-road racer Greg Adler, this weekend as he competes in the LOORRS race in Reno, NV. The race begins Friday night, Aug. 22 and continues Saturday night, Aug. 23, with Adler competing in both the Pro 2 and Pro 4 races.
Adler and his team have suffered through a series of unlucky mechanical errors over the last couple of LOORRS races, keeping the podium just out of reach. However, the team has been working hard to get Adler's 850 horsepower Pro 2 truck and 900 horsepower Pro 4 truck in top racing shape for this weekend.
Adler's last race in rounds nine and 10 of LOORRS at his home track, Glen Helen Raceway in San Bernardino, CA, had a disappointing 8th place finish when a burnt spark plug wire cut Adler's Pro 2 truck down to seven cylinders in the qualifier. His luck only worsened during the race Saturday, when a problem with the fuel pressure left Adler short on power.
The team has continued to fight hard, however, and Adler successfully finished within the top 10 racers despite his bad luck. "We're gonna continue working hard … so stay tuned," he says.
Fans of Team 4 Wheel Parts and the off-roading sport can purchase tickets for the race on the Wild West Motorsports website. The gates will open at 12 p.m. Friday and the opening ceremonies kick off at 7:30 p.m. Those who can't make it to Reno can catch the race on MAVTV on Sunday.
About 4 Wheel Parts: 4 Wheel Parts is a specialized aftermarket parts retailer in the off-road and 4x4 industry. They cater to all levels of enthusiasts through over 70 store locations in North America. 4 Wheel Parts installs all of the products it sells and operates a robust mail-order and e-commerce distribution network, serving customers across North America and around the world. 4 Wheel Parts is home to North America's largest inventory of Jeep and truck parts, such as running boards, catalytic converters, Jeep lift kits and more. Their toll-free order number is 877-474-4821.