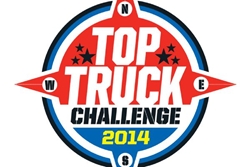 4 Wheel Parts has been a great partner over the years and the company's commitment of providing quality service and products to the off-road community mirrors Four Wheeler's continued mission of bringing enthusiasts the very best
Comton, California (PRWEB) June 07, 2014
4 Wheel Parts, aftermarket retailer of Jeep and truck accessories, is the presenting sponsor and official retailer of this year's Top Truck Challenge in Hollister, CA. From Monday, June 9 to Friday, June 13, 10 teams comprised of a driver and co-driver each will take on seven intense off-road courses for the chance to be named Top Truck Challenge Champion.
Four Wheeler Network Editor-in-Chief Christian Hazel says, "4 Wheel Parts has been a great partner over the years and the company's commitment of providing quality service and products to the off-road community mirrors Four Wheeler's continued mission of bringing enthusiasts the very best off-road action, entertainment and coverage in the world."
Four Wheeler Network has more than two decades of Top Truck Challenges under their belt, and 4 Wheel Parts is proud to be part of such a renowned event. Each year, readers vote on the rig they think will be best suited to take on the trials of Top Truck and come crawling out alive.
"Many of the parts on these trucks can be purchased from 4 Wheel Parts, off the shelf. That's one of the great things about it, people can see the parts and how they fare on the rigs, then walk in and buy them," says Ken Brubaker, Four Wheeler Network's staff editor.
This year's competitors include: #33 Matt Christian from Duncan, Oklahoma with his 1995 Chevy S-10, #3 Rick Jensen of Valley, Nebraska with his 1963 International Harvester Scout, #47 Tracker J. Bain from Myrtle Creek, Oregon with his 1969 Ford Bronco, #37 Richie Tremblay from Strathmore in Alberta, Canada with his 1995 Chevy S-10, #18 Daryl Horsley from Winfield in British Columbia, Canada with his 1991 Ford F-250, #1 Rob Inglis from Calgary in Alberta, Canada with his 1996 Dodge Ram 1500, #2 Josh Harris from Portland, Oregon with his 1992 GMC Jimmy, #14 Jeff Noggle from Medford, Oregon with his 1992 GMC K1500, #49 Joshua Hardy from Ben Lomond, California with his 1988 Suzuki Samurai, #28 Earl Middleton from Shelton, Washington with his 1972 International pickup. Alternates include #16 John Martinson from Yelm, Washington with his 1959 Fiat 1100 and #19 Ryan Agan from Hollister, California with his 1983 Chevy K10.
These racers will put themselves and their rigs to the test in a week of gear-grinding challenges. The 2014 Top Truck competitors will have to survive the Obstacle Course, Mud Pit, Frame Twister, Tow Test, Hill Climb, Coal Chute, and Tank Trap if they hope to wheel away with the top prize.
For more information on the Top Truck Challenge, visit fourwheeler.com or check out DVDs from previous years at 4 Wheel Parts!
About 4 Wheel Parts: 4 Wheel Parts is a retailer specializing in aftermarket parts for off-road and 4x4 enthusiasts. With 64 locations in North America, 4 Wheel Parts installs all the products it sells while also operating a robust mail-order and e-commerce distribution network to serve customers around the country and around the world. 4 Wheel Parts carries North America's largest inventory of truck and Jeep parts including Jeep lift kits, suspension systems, fender flares and more. Their toll-free order number is 877-474-4821.