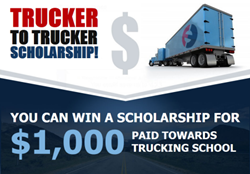 Wiregrass Tech focuses on building a highly trained workforce in South Central Georgia.
Culver, IN (PRWEB) November 23, 2013
Trucker to Trucker, one of the leading commercial truck and equipment marketplaces online, recently named Dawnsha Spencer as the first recipient of its company scholarship.
Details found on http://www.truckertotrucker.com/blog/fall-2013-scholarship-winner-dawnsha-spencer/ revealed that the $1,000 award will help Spencer further her education in trucking school. In the fall, she plans to attend the Commercial Truck Driving Program at Wiregrass Georgia Technical College, a public two-year university.
"We are incredibly happy to be awarding Dawnsha Spencer with this scholarship to be used towards tuition and training in the pursuit of her Commercial Truck Driving Certification," stated an article available on Trucker to Trucker's website. "Wiregrass Tech focuses on building a highly trained workforce in South Central Georgia."
According to http://www.truckertotrucker.com/truck-driver-scholarships.cfm, the Trucker to Trucker Scholarship offers any student currently enrolled in school—or who plans to be enrolled in 2014—the chance to win $1,000 towards their education. The check, which can be written to the winner's school of choice, is only useable for tuition and book costs. The Trucker to Trucker Scholarship is awarded twice a year.
To apply for the scholarship, applicants only need to write and upload an essay—comprised of 500 words or less—that answers one of two questions: "Why did you decide to become a professional driver?" or "What would a scholarship from Trucker to Trucker mean to you?" The deadline to submit the next application is May 1, 2014 at midnight, and a winner will be chosen by May 15, 2014.
For over 10 years, Trucker to Trucker has dedicated itself to creating an affordable and multilingual marketplace for commercial trucks and equipment. Today, the company website serves thousands of visitors per day, including fleets, dealers, and owner operators. Trucker to Trucker is committed to making online advertising simple and inexpensive for all of its patrons.
Individuals interested in learning more about Trucker to Trucker and its scholarship can visit http://www.TruckerToTrucker.com for more information.
About Trucker to Trucker:
TruckertoTrucker.com launched in 2003 with the goal of providing an effective and affordable option for fleets, dealers, and owner operators to sell their commercial truck and equipment online. Because it serves thousands of people per day, Trucker to Trucker has become one of the leading online marketplaces for commercial trucks, trailers, parts, and trucking equipment. In addition to providing equipment advertising, Trucker to Trucker's list of dealership services includes website design, website promotion, database applications, and custom programming from simple to complex. For more information, please visit http://www.truckertotrucker.com.