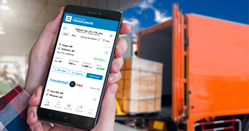 This new integration gives our brokers an additional resource for finding quality capacity and meeting the freight hauling needs of their shipper customers
PHOENIX, Ariz. (PRWEB) December 14, 2022
Trucker Path, the most comprehensive and most used mobile app for North American truckers, today announced that brokers using the Transport Pro TMS solution can now post loads on the Trucker Path TruckLoads digital freight exchange. The integration with TruckLoads instantly puts available loads in front of Trucker Path's 1 million + community of drivers.
"With the instant access to TruckLoads through our integration with Transport Pro, their brokers can substantially increase exposure to loads," said Chris Oliver, CMO at Trucker Path. "At the same time, the community of Trucker Path users gains immediate access to more available freight. This integrated capability will help meet capacity needs for brokers, and enhance the ability of drivers and fleets using TruckLoads to easily find loads and generate revenue."
The new integration with Transport Pro allows brokers to opt in to post all of their available loads on TruckLoads with a single click. On the Trucker Path load board, users can lock in capacity instantly and digitally, or communicate directly with the broker to negotiate rates or ask questions which are common practices in today's spot market. Drivers and carriers can also verify their operating authority and insurance on the platform, simplifying the onboarding process for brokers.
The integration also offers a link back to Transport Pro's Book Now platform, which increases online booking visibility, and creates a truly automated workflow for both parties.
"By providing a seamless, automated integration to TruckLoads, Trucker Path enables our brokers to further expand their digital freight network," said Kenneth Kloeppel, Director of Technology at Transport Pro. "This new integration gives them an additional resource for finding quality capacity and meeting the freight hauling needs of their shipper customers."
About Transport Pro
Transport Pro is a leading cloud-based transportation management software (TMS) that offers cutting-edge technology to fleets, brokers, and 3PLs. As a fully integrated platform, Transport Pro serves as the main hub for all business operations, and helps transportation companies automate the entire lifecycle of a load, from dispatch, imaging, billing, settlements, accounting, and reporting. Leveraging the latest technology, Transport Pro provides brokerages with modern capacity and tracking solutions, and gives trucking companies essential tools to proactively manage drivers, safety, and maintenance. The TMS features powerful, built-in tools that eliminate manual processes, so that teams can focus more on business growth and customer relationships. Easily implemented across multiple locations, Transport Pro is built for transportation companies that are ready to scale their operations. https://www.transportpro.net/
About Trucker Path
Phoenix-based Trucker Path is the provider of a wide range of truck driver-centric mobility products. Its Trucker Path app is currently in use by over 1 million professional truck drivers. Offering best-in-class navigation with truck optimized routing, the Trucker Path app also provides access to vital up-to-date information about truck stops, real-time available parking, fuel prices, weigh station status, and truck scales and wash locations. The company also offers TruckLoads, a digital freight exchange that connects drivers, carriers and brokers; COMMAND™, the industry's first and only Operations & Driver Relationship (ODR) platform that provides small to mid-size fleets with the necessary driver and TMS technologies to successfully run a fleet; and DISPATCH, a full-service dispatch service designed specifically to serve the back-office needs of small carriers and owner-operators. For more information, visit http://www.truckerpath.com.