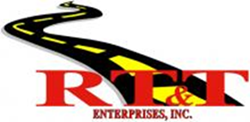 East Dubuque, IL (PRWEB) August 08, 2013
Already seeing the value that innovation and advancing technology has added to RT& T's operational flexibility, logistics efficiency and increasing productivity, the company has updated their HR strategies to appeal to today's best drivers as well. Like many employers increasingly challenged by today's truck driver shortage, RT & T Enterprises recognizes the need for partners such as TruckingUnlimited.com, in order to gain a competitive edge. With the simple objective of connecting today's talent pool with immediate on-line access to the best and most current truck driving positions across North America, TruckingUnlimited.com is a prominent example of how specialty job sites offer today's employers the best of both worlds; internet capabilities allowing immediate, unlimited exposure to a niche demographic specifically seeking the current best truck driving opportunities.
TruckingUnlimited.com has proven to be the on-line solution to the current truck driver shortage demands.
For a company that has proudly combined their best in class technology with experienced drivers to create a platform of cutting edge services and continuing growth, their new on-line recruiting partner certainly fits right in. RT&T's opened its doors in 1994, with one goal in mind: Grow the business around our Mission Statement "Meet and Exceed Expectations". Since then, the family owned executive leadership has consistently raised the bar to challenge their team to "think outside the box" while instilling a culture of financial responsibility. This process has had exceptional results for both RT & T customers and driver associates, making the company a fiscally sound business. RT&T's service has even earned the Transportation Excellence Award from Bon-Ton Stores. The award recognizes outstanding level of performance, based on a carrier scorecard that measures on time pick up and delivery, value, billing accuracy and more.
Continuing to offer their outstanding service in all areas of freight transportation across the US, RT &T Enterprises is welcoming owner/operators and lease to own operators of all types: Van, Flatbed, Reefers, Tankers, Car Haulers and Household Goods. The company considers each and every team member as a name, not a number and provides their drivers with a personalized team of experienced Planners and Dispatchers. RT & T also offers benefits such as a Plate Program, Insurance, Fuel Program, Weekly Settlements, Trip Pak, ACH and 100% Qualcomm equipped fleets.