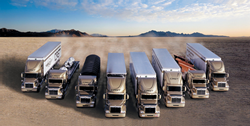 Cedar Rapids, IA (PRWEB) August 30, 2013
With the simple objective of connecting today's talent pool with immediate on-line access to the best and most current truck driving positions across North America, TruckingUnlimited.com has become known as "one-stop on-line shop for trucking jobs", benefiting both applicants and employers. It is an example of how specialty job sites now offer employers the best of both worlds; internet capabilities allowing immediate, unlimited exposure to a niche demographic of today's truck drivers, (who want immediate access to the best available jobs). TruckingUnlimited.com is proving to not only meet what the current truck driver shortage demands, it's another indication of how the Internet is revolutionizing the trucking industry. Now, the job site is fueling CRST's search for van drivers.
A company that is extremely proud of their reputation that exceeds over 50 years, CRST attributes their success to the professional drivers they employ, along with the excellent staff and management team who work together hand in hand. CRST Expedited is a CRST International company – a national truckload carrier operating the industry's largest fleet of team driver tractors. With major customers that include manufacturers, distributors, air freight and LTL trucking companies, CRST Expedited provides for all truckload shipping needs, with long haul, short-haul regional, air cargo shipping, and dedicated fleets. The company is also proud to operate with the newest fleet in the industry and seeking the best people to drive them.
CRST Expedited is the industry's largest trucking fleet of team drivers and proudly delivers a level of excellence not found at other trucking companies. Just like their standard of trucking services provided to customers, CRST provides outstanding truck driving jobs for professional drivers that includes long haul, regional, air cargo and dedicated fleet driving careers across the country. Their unique dedication to drivers is marked by the company's own Truck Driver Support Network, with a major focus on safety. CRST recognizes a structure for long-term careers that starts with their "Shut Down" policy, which allows drivers to make their own decisions about .
From new driving students to experienced truck drivers, CRST Expedited offers jobs and careers for truck drivers focused on safety and success. From bonuses paid in full within 12 months to top pay of up to $72,800 per year and a full range of benefits that start from day one, CRST Expedited is the perfect place for those seeking a truck driving career - not just a job,.