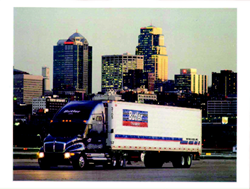 Kansas City, Kansas (PRWEB) September 27, 2013
Using the immediacy and widespread access of today's Internet technology, TruckingUnlimited.com has become one of the industry's most prominent web sites to not only provide a solution to today's growing truck driver demand, but also changing how recruiting is done. With the simple objective of connecting the best matching candidates to the industry's best truck driving jobs, TruckingUnlimited.com has become the on-line solution of immediate access and wide spread exposure for all. State by state, city-by-city, company-by-company, job-by-job and applicant-by-applicant, TruckingUnlimited.com is providing the entire US trucking industry with the most efficient recruiting process marked by continued success.
Headquartered in Kansas City, Kansas, Butler Transport continues to set itself apart from the competition by becoming among the top paying trucking employers to take advantage of TruckingUnlimited.com's job board. They follow their efforts to step-up their recruiting process with the same commitment to retaining drivers by providing the absolute best for their team. As company President George Butler stated, "We found out a long time ago that it takes quality drivers to make a quality company" and since then, they have measured their success by the success of their employees.
In addition to offering one of the best pay packages in the industry, Butler Transport is also known for providing its driver associates with the best equipment available and a current fleet that consists of these top of the line models: 2012 - 2013 International Prostar+, 2012 - 2013 Freightliner Cascadia, 2012 Kenworth T660's. Butler also prides itself in always being a step ahead in technology and was one of the first companies that began installing Qualcomm satellite tracking and messaging systems back1989. Since then Butler has gained approximately a 3 year jump on most of their competition, which has continued to develop a seamless communication and information system benefitting both their employees and customers.
With the company's slogan "Partners In Excellence", Butler Transport offers a wide range of programs designed to fit the individual needs of its driver associates and a top-ranked pay and benefit package backed with a guarantee to always provide consistency, integrity, respect and support in the work environment.