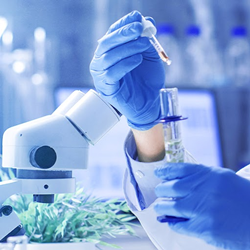 "For the first time, we now have a controlled experiment showing that it's possible to preserve the highest quality and purity of cannabinoid and terpenoid concentrations, in a way that could encourage standardization and regulatory approval." - Dr. Ethan Russo
PORTLAND, Ore. (PRWEB) October 21, 2021
True Terpenes is pleased to share new research on a practical, solventless method for cannabis extraction, as part of its continuing effort to introduce advanced, innovative techniques to the terpene industry.
Published in the September issue of Molecules, the study presents a simple dry-ice technique for cannabis extraction called Kryo-Kief™, that has the potential to produce little to no waste. Experiments showed that Kryo-Kief™ preserves the cannabinoids and terpenoids of fresh cannabis flower at comparably high concentrations, but without the biochemical fingerprints of other commonly used solvent methods.
Co-authored by True Terpenes Science Advisory Board (SAB) member Dr. Ethan Russo, this research reflects the purpose of the SAB, which is to provide external scientific and medical insights on terpenes and the entourage effect, including feedback on product and intellectual property development. Dr. Russo said that the dry-ice method has the ability to maximize the preservation of terpenoids that might otherwise be lost through traditional extraction methods.
"The True Terpenes Science Advisory Board is constantly seeking to learn more about terpenes and their therapeutic potential, while exploring methods in which we can reduce waste and impact on our environment," said Dr. Russo. "For the first time, we now have a controlled experiment showing that it's possible to preserve the highest quality and purity of cannabinoid and terpenoid concentrations, in a way that could encourage standardization and regulatory approval."
True Terpenes leads the industry in safety and compliance, and methods like Kryo-Kief™ demonstrate the company's forward-thinking approach to aromatic extraction. Recently, True Terpenes launched a new line of Live Resin Hemp-Derived Terpenes (HDT). The HDTs in this product family are immediately extracted from hemp flower while it is still fresh, delivering the most powerful depth and range of aromatic markers from terpenes and other minor compounds available today. The company has been extracting hemp at scale since 2018 and seeks to continue innovating new techniques that stay ahead of market demands.
"This technology provides a high fidelity way to capture the true aroma of cannabis, as well as a pathway to understanding how to create better products for us," said Drew Hull, Head of Product Innovation at True Terpenes. "It's a new approach to what is basically the best old method of producing hash, by rediscovering a classic and putting a spin on it that addresses the needs of the market and the environment."
True Terpenes will be taking Dr. Russo's research into consideration and formulating its next steps with the new process, which includes scaling the method while managing a diverse regulatory landscape. The company would like to extend a special thanks to Dr. Russo and Nishi Whitely from CReDO Science, co-author Jeremy Plumb, and Prūf Cultivar for supplying research materials.
Reference
Russo, E.B., Plumb, J. and Whiteley, V.L. (2021). Novel Solventless Extraction Technique to Preserve Cannabinoid and Terpenoid Profiles of Fresh Cannabis Inflorescence. Molecules, [online] 26(18), p.5496. Available at: Accessed 19 Oct. 2021.
About True Terpenes
True Terpenes, a fully owned subsidiary of True Companies, is the industry-leading producer of effects-based, GMP/ISO/FSSC-certified terpenes and terpenoids blends. Using ultra-refined botanical terpenes and other aromatic compounds, the custom terpene blends are used for beverage, cannabis, cosmetic, food, industrial and pharmaceutical products. The company uses advanced scientific analysis to identify terpenes and other compounds in the cannabis plant for recreation by utilizing other botanicals and hemp-derived ingredients. This allows companies in various industries looking to leverage cannabis flavors and effects with a scalable, standardized, and worldwide legal solution.
Disclaimer
Any forward-looking statements included in this document are made as of the date of this document and Corporation disclaims any intention or obligation to update or revise any forward-looking statements, whether as a result of new information, future events or otherwise. Although management of the Corporation believes that the expectations represented in such forward-looking statements are reasonable, there can be no assurance that such expectations will prove to be correct.