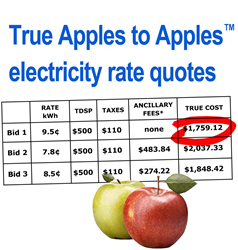 ...eliminates the guesswork and the hassle of getting competitive bids for commercial electricity.
Dallas, Texas (PRWEB) October 30, 2014
Since 2002, as one of the industry's most respected brokers, Texzon Utilities has helped companies navigate the challenges of purchasing electricity in deregulated areas.
Texzon recently conducted a survey of CEOs and business owners who expressed frustration with the procurement process. The survey brought out several "pain points," including:

Confusing or hidden charges on electricity bills
Not knowing if they are comparing apples-to-apples on rate quotes
Uncertainty that they are paying too much or getting locked in to a bad contract
Difficulty budgeting because of the volatility of electricity rates
This survey was the impetus for branding the process "True Apples to Apples™" and was also the idea behind the development of a free eBook designed to address these and many other issues and questions.
Where does the confusion come in? Part of the problem is due to the fact that there are no standards for how providers list ancillary charges on the customer's electric bill. These extra charges aren't always included in a quote and may include monthly meter fees, transportation fees and delivery of electricity fees. As an impartial advocate, Texzon provides a minimum of three 'apples to apples' quotes from different suppliers, with the emphasis on helping the customer make an informed purchasing decision and find the true lowest rate.
Texzon's free eBook, "The Savvy Buyer's Guide to Deregulated Electricity" is a straightforward primer with easy-to-follow steps and helpful tips. Divided into nine sections, it covers every aspect of the procurement process and also includes a glossary of energy terms. Some of the sections include:
Part 1: "Buying Electricity in a Deregulated Market" reveals opportunities and pitfalls of purchasing deregulated electricity and why becoming more knowledgeable is key to taking advantage of big savings.
Part 3: "Breaking Down Your Electric Bill" details each charge on a typical electric bill and how to spot ancillary charges which can make the actual rate much higher than what was originally quoted.
Part 7: "Developing an Energy Management Strategy" explains why a volatile energy market dictates that buyers should be looking at future pricing and evaluating their current contracts long before the expiration date, looking to "hedge their bets" by extending the term or writing longer-term contracts to lock-in lower rates and achieve budget certainty.
The eBook was written for business owners, operations or facilities managers, and anyone responsible for the critical and sometimes confusing task of buying deregulated electricity.
To download the free eBook, click this link: The Savvy Buyer's Guide to Deregulated Electricity, or find it on the Texzon.com home page. To learn more about Texzon True Apples-to-Apples™ electricity quotes, click here.
About Texzon:
TEXZON is a national energy management and procurement firm helping companies implement strategies to control and reduce energy costs. In 2002, TEXZON started brokering electricity and gas in the deregulated markets. TEXZON was recognized in "Entrepreneur Magazine" as one of the "Hot 100" Fastest Growing Businesses in America. "Inc. Magazine" also listed TEXZON as a top 20 energy company in "The Inc. 500." TEXZON currently operates in Texas, Ohio, Pennsylvania and Illinois. TEXZON is also a developer of green energy storage technology and Combined Heat & Power (CHP) projects in U.S. markets.