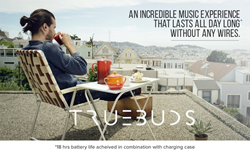 One of the best parts of running this Kickstarter campaign has been all of the feedback from our amazing backers.
San Francisco, CA (PRWEB) September 24, 2015
Truebuds, maker of the smallest Bluetooth earbuds on the market, has smashed through its $50,000 fundraising goal on Kickstarter to raise more than $370,000. The wildly successful Kickstarter campaign will end on Sunday, September 27. Truebuds will then begin to take pre-orders via Indiegogo.
Truebuds are not only the smallest wireless earbuds on the market- they also boast a best-in-market, six-hour battery life and a crisp, rich and cordless listening experience. Truebuds have been specially engineered to hug a user's ears and stay securely fit all day long. The wireless, in-ear headphones last 6 hours on a single charge and can be fully charged again with the portable charging case in just 45 minutes.
"One of the best parts of running this Kickstarter campaign has been all of the feedback from our amazing backers," Eric Tsoi, Truebuds co-founder, said. "Thanks to them, we knew that the next feature we wanted to add was budlocks, which offer the ultimate grip for Truebuds, and will help them stay secure, even during workouts and training sessions. We plan to introduce this feature once we reach our stretch goal of $400K."
Truebuds is currently only $30K away from this $400,000 stretch goal. The campaign has also announced a second stretch goal at $450,000; when met, they will then offer Truebuds in a variety of six colors.
Truebuds connect with any device that has Bluetooth including iPhones, Android phones and most mp3 players. They work the same way any Bluetooth-enabled audio device does, so they are simple to use and ready to go out of the box. Truebuds are available via the Kickstarter campaign for another 3 days. They can be pre-ordered starting at $119, which is $80 off the eventual retail price of $199. To order or learn more about Truebuds, visit http://bit.ly/KSTruebuds.
ABOUT TRUEBUDS
The Truebuds team is made up of a carefully selected team with the necessary skills and experience to bring technologies to market. Truebuds aim to seamlessly meld the way we experience music with the feeling of complete freedom. Pear Designs brings in the best designers and engineers to produce a high quality listening device with unprecedented features. Learn more at http://www.truebuds.io/.