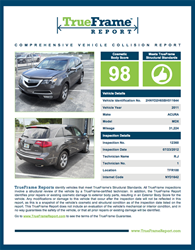 TrueFrame reports are designed to restore the value of vehicles with accident history.
Atlanta, GA (PRWEB) November 30, 2014
It's no secret that a vehicle history report is a critical factor when purchasing a pre-owned car. Automobile history reports can easily be obtained, but they don't always give consumers the whole picture. There are several ways a TrueFrame inspection can help consumers.
A TrueFrame Report can give car buyers the most comprehensive information to help them make confident, informed decisions. They can also offer a bonus to car owners looking to sell. Having a TrueFrame inspection performed on a car can boost its appeal to a potential buyer. Previously, a TrueFrame report could only be obtained with an appraisal through a dealer.
Now, TrueFrame of Georgia is offering inspection reports to all car owners/buyers throughout Atlanta.
Ordinary vehicle history reports are certainly useful when buying a used car. They provide information such as the number of previous owners, service records, odometer readings, and whether the vehicle has been in an accident. But when it comes to accidents, vehicle history reports can be very vague. In many cases, a vehicle has very minor damage or no damage at all, such as a parking lot fender bender or a tire blow out.
This generalized, non-specific information on the vehicle history report is why a TrueFrame report is so important. The TrueFrame report gives you detailed information about the damage to a vehicle, if any.
TrueFrame reports are designed to restore the value of vehicles with accident history, as well as increase buyer confidence. The TrueFrame inspection identifies good vehicles with a bad history report by answering these questions:

Was the vehicle in a serious accident?
What work was done to the vehicle as a result of the accident?
Is there existing cosmetic damage to the vehicle?
Does the vehicle meet TrueFrame's Structural Standards?
Is the vehicle structurally sound?
What does TrueFrame of Georgia look for when inspecting a vehicle? Unlike other vehicle inspections, a TrueFrame inspection focuses on structural integrity. While the vehicle is lifted, the frame or unibody measurements are taken with digital precision, and a visual inspection of the vehicle's structural components is performed. A TrueFrame inspection also identifies where the car was impacted in the prior accident and provides a cosmetic analysis of the vehicle's exterior.
Automobiles that meet the TrueFrame structural standards are eligible to receive a TrueFrame report. TrueFrame reports include a cosmetic body score along with an indication that the vehicle meets the TrueFrame structural standards. Vehicles that possess a TrueFrame report can then be sold as Trueframe Certified.
TrueFrame reports are easily accessible through TrueFrameReport.com and also appear on both Carfax and AutoCheck vehicle history reports. The report travels with the vehicle and provides an unbiased, third party inspection summary. The cost of a TrueFrame report is $275 and can be performed at:
Trueframe Inspection Station
1815 Hembree Rd #407
Alpharetta, GA 30009
For more information about TrueFrame, please call Tony Rached, Managing Partner of TrueFrame of Georgia at 678-200-9069 or visit http://www.trueframeofga.com .