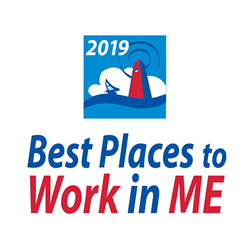 "This is a testament to the consistency and camaraderie we've tried to build. We don't just work with one another, we learn from one another, and that's been a huge factor in our success."– Haj Car, Trueline CEO
PORTLAND, Maine (PRWEB) September 03, 2019
For the fourth year in a row, Portland-based marketing agency Trueline has been named one of the Best Places to Work in Maine.
The company will be recognized at the 2019 Best Places to Work in Maine awards ceremony, to be held on October 2 at the Augusta Civic Center. Final rankings for the 100 companies on this year's list will be announced at the event.
Conducted annually by a third-party group of Maine businesses and state agencies, the survey-based contest uses anonymous responses from employees to quantify a company's work culture, management, office accommodations, internal policies and more.
According to CEO Haj Carr, Trueline's inclusion on this year's list underscores the company's tight-knit culture.
"This is a testament to the consistency and camaraderie we've tried to build," says Carr. "We don't just work with one another, we learn from one another, and that's been a huge factor in our success, and why we're able to have such a positive impact on our clients."
Endorsed by Mainebiz, the Maine State Chamber of Commerce and the Maine HR Convention, the Best Places to Work in Maine list is comprised of 100 companies in three size categories: small (15-49 U.S. employees), medium (50-249) and large (250-plus).
Founded in 2007, Trueline offers strategy, content and design services to companies, non-profits and individuals from across the industry spectrum—both in Maine and around the world.
This past June, Trueline moved to a new location at 561 Congress Street, in the former home of the SALT Institute for Documentary Studies.
For more information about Trueline, visit http://www.wearetrueline.com
For more information on the Best Places to Work in Maine program, visit http://www.BestPlacestoWorkME.com.