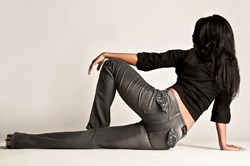 The new class of "Super Stretch" denim is easily one of the hottest trends in today's denim market.
Dallas, TX (PRWEB) October 23, 2013
The lab results are in! The ITC Girl brand, Tru Luxe Jeans, is now a member of the "Super Stretch" class of premium denim fabric.
Tru Luxe Jeans has developed a unique and proprietary premium denim that has the bulk properties of the "Super Stretch" class with a tested 35% stretch while maintaining an 86% recovery to original specs. Tested at the independent laboratories of SGS, this new premium denim showed remarkable results in the areas of "stretch," "recovery," and "dimensional stability."
In an article by Sandeep Agarwal, of DenimandJeans.com–a denim news site, on the topic of super stretch, comfort, and recovery, Kristin Altimari, an industry expert at Invista, explains that standard stretch jeans have a 20-25% total stretch ability. The new classification of "Super Stretch" have shown to have 30% or more stretch, which means the more stretch, the more comfort, east of fit, and wearability.
The distinction between the Tru Luxe denim and other super stretch denims out there is the recovery of the stretch. Having just stretch without recovery causes jeans to bag out in the knees, seat, and waist, causing unsightly bagging and gaps that make you look like you've worn your jeans for days on end. The denim used for Tru Luxe jeans avoids this by having an 86% recovery to the original specs of the jean.
The new class of denim is easily one of the hottest trends in today's denim market. What's not to love with a pair of jeans that molds your body day after day?
The Tru Luxe Jeans brand is produced by ITC Girl, a division of Sharon Young, Inc. ITC Girl was established in 2006, the Tru Luxe Jeans brand was created in 2011. Tru Luxe Jeans are designed by Nancy Bolen, a veteran fashion designer based in LA, who has redefined the denim market. The jeans are a comfortable mid-rise, with unique super stretch to fit the majority of body types along with tasteful and modern designs that look trendy and youthful. The Tru Luxe Jeans line now encompasses tops, vests, and jackets to pair perfectly with your jeans to create a complete casual lifestyle collection.
If you would like more information about this topic, please contact Karis Renee at (214) 349-1891 or email at karisrenee(at)sharonyounginc(dot)com.