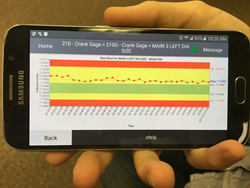 Reveal delivers the right information at the right time to the right people – the first responders on the plant floor.
FARMINGTON HILLS, Mich. (PRWEB) May 24, 2016
Plant floor personnel can better manage costs while avoiding production loss, thanks to new software from Trumble Inc.
Reveal® creates a proactive culture of continuous improvement in manufacturing facilities by detecting emerging process variability and other sources of costly production losses in real time. The software analyzes existing manufacturing quality and testing databases and then automatically alerts plant-floor personnel. Reveal can alert personnel via email, SMS text message or an industry-first Android or iOS smartphone application to drive key process decisions.
Trumble has created two turnkey solutions to self-optimize a manufacturing environment:

Reveal Enterprise, geared toward high-volume manufacturers with an existing IT infrastructure.
Reveal Cloud, a scalable, cloud-based solution for small- to mid-size manufacturers without a mature IT infrastructure.
"Reveal delivers the right information at the right time to the right people – the first responders on the plant floor," said Jeff Trumble, Trumble founder and CEO, and developer of Reveal software. "Reveal analytics monitor thousands of process parameters in real time, and automatically notes the location of an emerging trend before it becomes a loss. Its transformative technology empowers everyone on the plant floor."
Reveal software monitors every operation on the plant floor, looking for trends in the data that could result in loss. If the manufacturing process is trending away from specification parameters, designated personnel receive an easy-to-understand alert via email, text message or smartphone app. The alert notes which specific part of the process is trending toward a potential issue, so it can be addressed immediately before defective parts are produced or costly downtime is incurred.
Trumble said this approach differs from current methodology, which is often reactive and relies on the production of defective parts as an alert before troubleshooting even begins. Manufacturers collect and store massive amounts of plant floor data that are waiting to be analyzed. Turning this data into actionable information often requires professionals with specialized statistical skills. After manually mining the data, statistical experts draw process conclusions — often after a significant event and loss has already occurred.
"Reveal's value proposition and ease of use just continues to grow with the release of our new smartphone apps," Trumble said. "Since there are no requirements for previous experience in statistical process control, any trusted factory personnel can be part of the first-responder team, and now all they need to tap into the power of Reveal is a smartphone."
Reveal Enterprise and Reveal Cloud offer the capability to schedule custom reports with specific process parameters that can be viewed every day, according to Don Manfredi, Trumble president. Reveal software also uses the same statistical rules as Minitab, the preferred Six Sigma statistical analysis package.
"Reveal creates a manufacturing environment where root causes of process variation are visible to plant floor personnel in continuous real time," Manfredi said. "The new Reveal smartphone app gives manufacturers another tool in the fight against process variation and loss. Our goal is to be the enabling technology that helps shift manufacturing plants from a reactive to a proactive culture. We believe that shift will translate to millions in savings for manufacturers worldwide."
For more information on Trumble Inc. or Reveal, please visit http://www.trumbleinc.com.
ABOUT TRUMBLE INC.
Trumble Inc. provides software solutions that enable true Plant Floor Intelligence®. Reveal® software searches for emerging manufacturing process variation in real time, and automatically alerts personnel on the plant floor. Corrective action can then be taken to prevent defects and reduce costs. Based in Farmington Hills, Mich., Trumble was created to passionately serve the people of the manufacturing community by enabling them to proactively manage their processes. Trumble's vision is to leverage the skill of plant floor personnel with the power of technology, creating a proactive and efficient manufacturing culture.
###