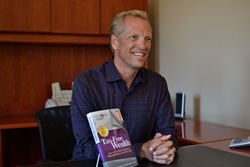 "There are always winners and losers in tax legislation." ~ Tom Wheelwright, Tax-Free Wealth Author
Tempe, Arizona (PRWEB) July 13, 2016
Tax-Free Wealth Author Tom Wheelwright compares Presidential Candidates Donald J Trump to Former Secretary of State Hillary Clinton tax proposals to educate voters in sync with the upcoming GOP Convention (July 18-21) and DNC Convention(July 25-28). With taxes being in the top 5 for "Top Issues of 2016" (US News & World Report) and the economy as #1 (Gallup), everyone needs to get educated on this hot topic.
The main difference between Trump and Clinton is that Trump wants to reduce taxes and bring jobs back home from China, while Clinton wants to raise taxes on the wealthy. The main question to ask is whether these tax changes would ultimately hurt or help the economy. Until more details are announced, Wheelwright emphasizes, "We just know that there will absolutely be unintended consequences whenever you have major changes to the incentives in the tax law."
Donald J Trump's tax plan includes:

Eliminate estate tax paid by the wealthiest 2% of Americans.
Lower the tax on capital gains.
Lower the top corporate rate to 15%.
Add a 20% import tax.
Lower the highest tax bracket from its current level of 39.6 percent to just 25 percent.
Hillary Clinton's tax plan includes (according to The Motley Fool):

Increase estate tax for inheriting large sums with a top rate of 45% versus 40% currently.
Change long-term capital gains rate so current 20% tax only applies if investment held for 6 years (versus the 1 year now).
Implement Buffett Rule requiring anyone with $1+ million adjusted gross income to pay a 30% minimum income tax.
Add a 4% surtax on income over $5 million.
Maximize all itemized deductions to 28% percent or $.28 per dollar on tax deductions.
For Trump to flatten and reduce the tax rates, it will require considerable cuts in tax benefits now given to business owners and investors. As a result, Trump's plan could actually hurt business growth, reduce job creation and create losses in real estate investments.
What is known is Donald J Trump's proposal reforms income tax in a similar way to the plan enacted by Ronald Reagan in 1986 when Wheelwright worked in the National Tax Department of Ernst Young (then Ernst & Whinney). The goal of Trump's plan is to broaden the tax base (i.e., reduce or eliminate many deductions and other tax benefits) and flatten/lower the tax rates to encourage investment and job creation. Wheelwright comments, "While putting more money in the pockets of the public is an admirable goal, the question will always be where will the money come from? Will it come from more debt or from other taxpayers?"
Wheelwright adds, "The unintended consequences of the Trump plan are unknown. Remember, though, that the unintended consequence of the Reagan tax plan was the failure of the savings and loans and massive loss of wealth to those who owned real estate. The loss of value in real estate as a result of the 1986 tax act was much greater than the loss of value in 2009 and 2010 as a result of the mortgage failures."
In comparison, according to The Motley Fool, the top 1% of households earning more than $730,000 would likely see their tax burden increase by more than $78,000 by the Clinton tax changes.
Tom Wheelwright expands on the Clinton proposal, "Hillary Clinton's tax plan is really more of the same. Her capital gains tax will certainly have an impact on the flow of investment dollars as more people will let their money sit instead of moving it into different investments. It will likely impact the stock market at least in the short term. Many of her other proposals are actually similar to Mr. Trump's. She would eliminate the capital gain tax preference for carried interest, which will impact the investment market. If this change is also applied to real estate transactions, then it will likely slow real estate development."
How much the Trump and Clinton tax plans would impact the economy is unknown, but Wheelwright is certain; "There are always winners and losers in tax legislation."
For a timely interview with Tom Wheelwright, please contact
Liz Kelly, Goody PR, 310-987-7207
Bio
Tom Wheelwright is a leading tax and wealth expert, Best-Selling Author (Tax-Free Wealth), CPA, and CEO of ProVision Wealth. Tom is best known for making taxes "fun, easy and understandable", and specializes in helping entrepreneurs and investors build wealth through practical and strategic ways that permanently reduce taxes. As a Rich Dad Advisor to Robert Kiyosaki ("Rich Dad Poor Dad"), Tom frequently speaks at Rich Dad conferences worldwide. His work has been featured in Forbes, Investor's Business Daily, Accounting Today, Newsday, ABC News Radio, ESPN Cover Your Assets, the Real Estate Guys Radio Show, Money Radio 1510 Business for Breakfast, AZTV and many more media. http://taxfreewealthadvisor.com