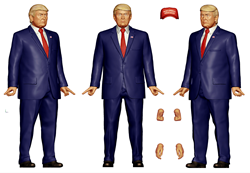 Talking Trump Action Figure Hits Kickstarter!
Irvine, CA (PRWEB) June 14, 2016
Love him or hate him, people just can't get enough Donald Trump. Fans and supporters of "The Donald" can soon get their hands on a nearly identical 1/6 replica of the presumptive Republican nominee, featuring over 20 of his most memorable quotes from the campaign trail.
Today, in honor of Donald Trump's 70th Birthday, Schlock Toys announced the launch of a Kickstarter campaign to put the collector's quality, fully articulated, talking Trump action figure into production.
"We've created the ultimate collectible Trump Man of Action figure," said William Hirsch, CEO of Schlock Toys; a toy industry veteran who led global design teams at Mattel and Hasbro, and was behind the design and development of best-selling collectibles for many leading franchises, including Star Wars and The Simpsons.
"The production run is limited to 10,000 units to ensure its collectible status," He added. "For a donation of $100 to our Kickstarter campaign, you can reserve your hand-painted, twelve-inch, look-alike Trump talking Presidential Action Figure."
The Kickstarter campaign's goal is to raise $125,000 by July 8th. Once fully funded, donors can expect to receive their action figures ahead of the general election in November. There are various tiers of donation starting at as little as $1. There is even one fit for Billionaires like, Mr. Trump. Each tier features a unique gift or package.
About "Doc Schlock" - William Hirsch is a creative powerhouse and accomplished toy industry executive who has developed scores of licensed merchandise for leading entertainment giants such as Disney/Pixar, Lucasfilm, 20th Century Fox, Nickelodeon, and Warner Brothers.
How to Grab This Story:

The first fully-functioning prototype of the action figure and its creator, William "Doc Schlock" Hirsch, are available for in-studio demonstrations starting June 20th, 2016.
The Kickstarter campaign page can be found here: https://www.kickstarter.com/projects/239703706/trump-2016-man-of-action-figure.
For interviews or high-resolution images of the action figure, contact Schlock Toys at +1 (949) 677-9353.
Tweet it to the world. Use hashtags #donaldtrump, #trump, #trumptrain, #trump2016.