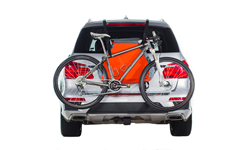 "We've refined the idea, optimized the product and now we are ready for manufacturing. We are at the position where we are ready to sell and we need the help from the cycling community to make this a reality." — Tyler Nelson, Founder & CEO
Dallas, Texas (PRWEB) July 08, 2015
Imagine a cyclist is stranded on their bike due to a flat tire, a turn in the weather, or consumed one too many beers, the TrunkMonkey bike carrier provides a convenient option to quickly mount a bike onto a friend's car or ride share and be on their way in a matter of minutes.
Tyler Nelson, Founder & CEO of TrunkMonkey, has launched a Kickstarter campaign for his inflatable bike carrier designed to fit on virtually any vehicle with a rear trunk or hatch. TrunkMonkey is so compact it can be mounted on the seat post of any bike frame or stowed away in the trunk of a vehicle for easy storage and accessibility; This solves the common problem of keeping an empty bike rack attached to a car when not in use.
TrunkMonkey was designed to keep the bike and the car safe. The inflatable polyvinyl core is protected by durable 1000 mil. Cordura Kevlar shell, which eliminates any structural friction points that can dent or scratch the vehicle, unlike traditional trunk mounted bike racks. With its unique cradle design, TrunkMonkey secures the bike to the inflatable with nylon webbing straps and keeps metal fixtures away from the bike frame preventing the risk of structural damage.
In just five days from campaign launch, the Kickstarter funding goal of $25,000 was met and to date the campaign has raised just under $47,000 from over 300 backers with 14 days still remaining.
Pre-Orders are now available on Kickstarter for $125 and will be ready to deliver in late August.