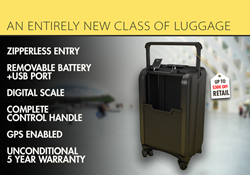 As lifelong globetrotters, we realized, who else would be more qualified than us to create the next big thing in luggage?
New York, NY (PRWEB) January 08, 2015
Trunkster is the next generation of luggage. With so many innovative features, this bag breaks the mold of traditional luggage and offers an alternative type of functionality for all travelers.
Trunkster's Kickstarter campaign reached its funding goal of $50,000 within the first 24 hours of its campaign. The campaign is quickly approaching the $1,000,000 mark and will be the first Kickstarter project to raise $1,000,000 in the new year.
Trunkster offers several incredibly unique features. It has a zipperless, front-loading entry that makes accessing belongings easier than ever, especially in cramped spaces. Both sizes, the carry-on and checked, are equipped with removable batteries and USB ports for charging electronics on the go. Each piece of luggage is GPS enabled to help travelers locate lost or stolen luggage. Lastly, Trunkster comes with a built-in scale to test weight limits and help gauge whether bags should be checked or carried onto flights. All Trunkster merchandise purchased on Kickstarter comes with a five-year unconditional warranty.
Trunkster is currently only available in black, however when the campaign's stretch goal of $1,000,000 is met, the company is willing to offer different color options. Also, if the stretch goal is reached, Trunkster will use a more advanced and high-quality construction process. This will accommodate significant design enhancements that include reinforcing the wheel housings to allow for a seamlessly-integrated side handle and increasing the opening size of the bag. These upgrades will add to Trunkster's durability.
"As avid travelers, Jesse and I always found ourselves complaining about our luggage and wishing there was a better alternative to traditional duffles, suitcases and backpacks," said Gaston Blanchet, co-founder of Trunkster. "As lifelong globetrotters, we realized, who else would be more qualified than us to create the next big thing in luggage?"
Trunkster's Kickstarter campaign ends Friday, Jan. 16, 2015. With about one week left, Trunkster will reach its stretch goal of one million dollars and include these upgraded features to its luggage. To learn more about Trunkster and contribute to the campaign, visit their Kickstarter page here: bit.ly/1xzIjKq.
ABOUT TRUNKSTER
Conceptualized during travels from the uncharted wilderness of remote African islands to the fabled streets of Havana, Trunkster is the realization of the luggage the team always wished it had. An effortlessly simple and beautiful bag, the Trunkster team is confident that Trunkster represents the evolution of luggage and the promise of an optimized travel experience. Learn more here: bit.ly/1xzIjKq.