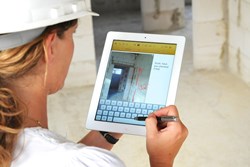 Take a photo of the problematic area, add any notes and voice recording and bingo...the answer is seconds away
Krefeld, NRW (PRWEB) August 29, 2013
What is truPad? http://thetruinc.com/trupad/
In short, it is a powerful photo and PDF annotation tool that it allows for ultimate versatility when it comes to sending images or documents to which a user needs to add notes. It is designed for annotating plans, PDF documents, sketches and photos.
How does truPad work? http://thetruinc.com/trupad/
The app allows users to take a shot of their subject and then make marks directly onto the image to highlight and point out issues or areas of interest. If the user wants to elaborate further or to explain other issues relating to the image, he can make a voice recording to add to the image and it will be automatically attached when send by email. "Take a photo of the problematic area, add any notes and voice recording and bingo... the answer is seconds away," Tru Inc. App Developer Adam Hill said.
How versatile is truPad?
The user is not limited to email because it also works with the Dropbox and Evernote application.
There are many scenarios where truPad can be central to problem solving. Buying a new home or even a gift or a new outfit can be a difficult job when the user wants someone else's thoughts on the details. The application takes the decision making process to as many people as the user likes and allows him to share responsibility.
truPad is available for purchase from the Apple App Store.