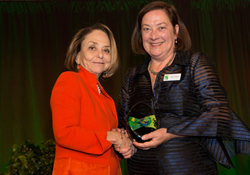 NEW YORK (PRWEB) November 16, 2018
The Trust for Public Land honored Barbara Picower, President of The JPB Foundation, at its 2018 Gala hosted by Eva and Alexander Durst of the Durst Organization and Dan and Sheryl Tishman of the Dan and Sheryl Tishman Family Foundation Wednesday, November 14 in Manhattan. The theme of the Gala was the Trust for Public Land's 10-Minute Walk vision, which aims to provide every American with a safe, healthy, and vibrant park within a 10-minute walk of home.
"We are delighted to honor the important work of Barbara Picower and her contributions to our mission of protecting land for people," said Trust for Public Land CEO Diane Regas. "Part of that mission includes our national 10-Minute Walk vision, that's helping to address the fact that 1 in 3 Americans doesn't have a park near their homes. Access to parks provides a wealth of physical, social, and environmental benefits and we believe everyone deserves beautiful green space in their communities."
The event was attended by members of the Trust for Public Land; Council Member Mark Levine; and executive leadership from Goldman Sachs, Bloomberg, Citi, Lyft, and Prudential Financial. The gala also featured a special performance by musician and actress Lera Lynn, known for her work on HBO's True Detective.
Launched in late 2017 by the Trust for Public Land, National Recreation and Park Association, and Urban Land Institute, with funding from The JPB Foundation, the 10-Minute Walk Campaign works with mayors and stakeholders in cities across the country to advocate for innovative parks solutions. The bipartisan effort encourages cities to enact measurable policies and strategies to provide neighborhoods with accessible parks that foster a sense of community and act as healthy multi-purpose resources for local residents. Over 224 mayors have already signed on from cities including New York, Los Angeles, Boston, Chicago, Philadelphia, Las Vegas, Fort Worth, Orlando, Dallas, Denver, Baltimore, and Washington, DC.
For more information about the Trust for Public Land and the 10-Minute Walk vision, visit tpl.org/10minutewalk.
About The Trust for Public Land
The Trust for Public Land creates parks and protects land for people, ensuring healthy, livable communities for generations to come. Nearly ten million people live within a ten-minute walk of a Trust for Public Land park, garden, or natural area, and millions more visit these sites every year. To support The Trust for Public Land and share why nature matters to you, visit http://www.tpl.org.