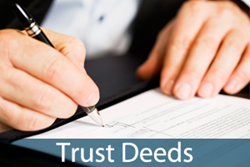 Invest your money smart and secured- Trust deeds!
Los Angeles, CA (PRWEB) May 25, 2015
HML Investments Now Offering Trust Deed Investing Program Nationally
HML Investments, one of Los Angeles' leading hard money investing firms, has announced its plan to expand its Trust Deed Investing Program nationally. After seeing incredible success and widespread interest across southern California, the lending house is taking its fresh investing approach to markets across the country.
"We felt that our experience and success in one of the best real estate markets in the United States (Los Angeles) warranted a larger scaled approach," comments Yanni Raz, one of HML Investments principle partners. "Many do not realize that their investment accounts can give them the types of returns hard-money investors enjoy. Through education and program expansion, we intend to share this opportunity with investors across the United States."
Leveraging Trusts and Retirement Accounts
The HML Investments Trust Deed Investing Program utilizes the ability to leverage capital held in investment accounts or trusts much in the same way that liquid capital can be used to fund hard money loans. The industry boasts an average return of 12% on each transaction, giving investors a stable alternative to standard investment practices. And, because of the immediate 30% equity built into the loans, the risks associated with these returns are far below other real estate alternatives.
Investors & Borrowers Sought
The expansion of the HML Investments program does not solely involve the pursuit of investors. The firm intends on expanding its ever-growing real estate lending portfolio to other, opportunity-rich markets across the United States.
"Hard money lending has become an incredible tool for real estate speculators and investors," Mr. Raz concludes. "We have a wonderful opportunity to extend our reach, while opening new doors to borrowers everywhere."
For More Information –
Any inquiries regarding HML Investments' Trust Deed Investing Program, borrowing or investing, can be directed to:
Name: Yanni Raz #Trustdeedinvestments #hardmoneylenders
Telephone: (818) 308-4443
Email: yanni(at)hmlinvestments(dot)com
Web: http://www.hmlinvestments.com
Social Media Connections:
Instagram: http://instagram.com/Yanniraz
Facebook: http://www.facebook.com/Hard.money.lenders.CA