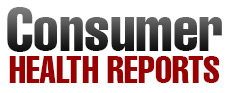 The public has a right to know what they are paying for. Many of the products we test are downright scams, check with us first before you buy.
Dallas, TX (PRWEB) September 23, 2014
As a consumer in today's world, precautionary measures must be taken before making a purchase. It's difficult to trust testimonials that are supplied by the merchants themselves and it's easy for them to manipulate their customers into saying anything.
Consumer advocacy groups aim to mitigate this dilemma, but they tend to lack in depth coverage on a particular market i.e. nutrition. Consumer Health Reports was founded to fix this issue and focus on exposing the thousands of health and nutrition products available to the public.
The newly launched consumer advocacy group includes comprehensive reviews of the latest health supplements, fitness workouts and nutrition plans. Consumer Health Reports supersedes conventional research and review methods by collecting thousands of reviews from authority sources as well as performing independent testing.
Thanks to senior editor and nutrition expert, Katherine Manning, consumers are now able to safely and confidently make decisions based on impartial, transparent, professional research.
Ms. Manning has been researching health supplements and nutrition for the past 7 years. Katherine has dedicated her whole career to finding the best and most effective workouts and diets on the market today. Readers are assured to receive quality reviews thanks to Manning's innovative three-step research approach.
Says Manning, "I came up with the 3-step approach to ensure my readers were receiving the highest quality, clearest reviews of health products and exercises as possible."
The three-step approach begins with analyzing online reviews on sites like Amazon and surveying real users of the product. It then carries on with independent testing of the ingredients and/or methods used in any given product. This step certifies the integrity and effectiveness of the product in question. The last step that follows is the investigation of a company's product guarantee to see whether it's restricted by fine print nonsense.
Most review sites do not take the extra time and effort to provide these types of reports. However, Manning believes "every person has the right to know what they are doing to their bodies and more importantly if it actually works."
Consumer Health Reports was launched in an effort to help consumers make educated decisions prior to purchasing health and fitness products. Furthermore, Manning's mission is to ensure that every consumer has access to accurate information before buying online. The full mission statement can read at Consumer-HealthReports.com.