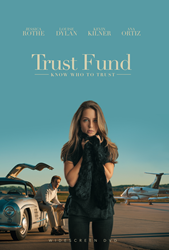 Los Angeles, Ca (PRWEB) July 18, 2017
Hailed by critics and fans alike, the endearing coming-of-age drama "Trust Fund" by Mapelle Films, is now available on DVD and HD Digital nationwide. Written and directed by Sandra L. Martin and produced by Isaac Alongi, the family film's all-star cast includes Jessica Rothe ("La La Land"), Kevin Kilner ("House of Cards"), Ana Ortiz ("Devious Maids"), Willie Garson ("Sex and the City") and Rose Abdoo ("Gilmore Girls: A Year in the Life").
"Trust Fund" tells the story of Reese Donahue (Jessica Rothe) a young aspiring writer from Chicago. She's spent her whole life working hard to keep from working; living the life everyone wishes they had. Until she discovers the secret that forces her to choose between the predestined life that she knows so well and what appears to be the destiny her mother wanted her to have. She's lured into betraying her father and chasing after a life she dreams is better than the one she already has. When Reese returns home with nothing but regret, the forgiveness of her father teaches her what it means to love.
" 'Trust Fund' is about family, forgiveness and discovering who you are," says Martin. "It's a story for families to watch together and hopefully start talking about some important issues, like self-image and red flags in relationships."
In addition to the home video release, Martin will be debuting a YA novel "Love was Near," based on the film. Available on paperback and Kindle, "Love was Near" gives young adult fans a chance to find out what happened outside the screen and fills in the missing pieces. Readers find out exactly what Reese is thinking in her book as they are transported along on a very personal journey. As she sprinkles in childhood memories with her everyday struggles they will discover what happened in the Donahue family before the movie begins. Reese shares her dreams and confessions, then asks fans to share theirs as they answer questions about their identity, purpose, and life plan. Reese is ready to forget some of the things she's done, but before she slams this chapter of her life shut, she takes a final glance back and finds she still has plenty to learn about life, love and the risk of trusting others.
For more information about Trust Fund, please visit:
Website: http://trustfundmovie.com.
More about "Love was Near" by Sandra Martin:
Publish Date: July 18, 2017
Publisher: Mapelle Books
Pages: 232
Price: $12.99
ISBN: 9780692884669
E-Book ISBN: 9780692891766
*Also available in eBook format
About Mapelle Films:
Stories bring people together. At Mapelle Films, we believe stories impact people and change our culture. That's why we tell stories that not only entertain, but have meaning.