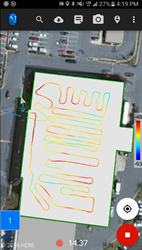 Greenbelt, MD (PRWEB) November 17, 2016
TRX Systems, developer of NEON® location solutions, today introduced NEON® WiFi Mapper. Leveraging TRX's industry leading NEON location technology, WiFi Mapper enables simple and fast multi-floor site surveys and heatmap analysis. This solution is ideal for measuring, troubleshooting and documenting RF coverage and performance of 802.11wireless LANs.
WiFi Mapper is an Android-based application deployed with a small, wearable tracking unit that enables seamless tracking of the user indoors and out as the WiFi signal levels are measured and geo-referenced to a 3D building model. WiFi Mapper greatly reduces the time to accurately document the site survey and deliver actionable data in complex buildings and campus environments by automatically geo-referencing the signal readings and recording the measurements in 3D.
NEON WiFi Mapper has a number of unique capabilities that only a 3D solution can provide including the ability to seamlessly combine and compare heatmaps to show network changes, to geo-reference notes and pictures that are stored and visualized in 3D, and to generate reports with 3D images and WiFi data. Most importantly, this innovative new solution for IT managers and technicians enables quick analysis of signal coverage and faster problem resolution by delivering the industry's only indoor and outdoor real-time 3D heatmap visualization.
"As an innovator with more than 10 years developing personnel tracking algorithms and software for our industrial and government customers, we are excited to bring this low cost, easy to use and time saving solution to the enterprise market," said Carol Politi, President and CEO of TRX Systems.
NEON WiFi Mapper is now available for purchase at http://www.trxsystems.com/store.
About TRX Systems
TRX Systems is the developer of the NEON® Location Solution, delivering location and mapping indoors, underground and in dense urban areas where GPS is not available or is unreliable. NEON delivers ubiquitous, low-cost, 3D location through the use of advanced sensor fusion, ranging, and patented dynamic mapping algorithms.
TRX Systems is the recipient of the 2015 Silver Edison Award for innovation in the Navigation and Robotics category, the Tibbetts Award given by the U.S. Small Business Administration for innovation and economic impact of research and development and the Innovator Award from the Chesapeake Regional Tech Counsel (CRTC). TRX's location software development has been supported by the National Science Foundation, the Defense Advanced Research Projects Agency (DARPA), the U.S. Army and the Department of Homeland Security.
For more information, visit http://www.trxsystems.com.
TRX Contact:
Jeff Kunst
kunstj(at)trxsystems(dot)com
703-969-1257