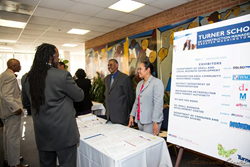 I am now 24 years-old and in a position to be a developer of specific innovative construction projects, collectively valued at $25 million. All is a result of the training I received at the Turner School of Construction Management.
Washington, DC (PRWEB) March 14, 2014
Turner Construction Company is offering its annual Turner School of Construction Management (TSCM) from March 19, 2014 through May 14, 2014 at Howard University in Washington, DC. The eight-week course elevates growth prospects for construction-oriented contractors by providing practical and accessible management training for free. Turner established the TSCM to give back to the community by sharing knowledge and empowering small businesses in the local construction industry. There is still limited availability in this year's program.
Turner is partnering with the DC Small Business Development Center (a collaborative initiative of Howard University, the Small Business Administration, and District of Columbia small business community stakeholders) to teach contractors how to successfully propose to and work with large general contractors. With the TSCM, Turner and the District of Columbia SBDC hope to positively impact the local economy.
Turner and its partners are seeking to enroll 200 students into the TSCM to better prepare the subcontracting market to win and perform work successfully in the area. The courses will be taught by skilled Turner employees and industry partners. This year, the TSCM will cover the following topics: Setting up a Business; Construction and the Law (presented by Timothy R. Hughes, Esq., of Bean Kinney & Korman P.C.); Project Delivery Systems and Contract Risk Management; Marketing, Banking and Accounting; Bonding and Insurance (presented by Construction Bonds, Inc, a division of Murray Securus); Project Planning and Safety; Scheduling; Bidding, Estimating and Procurement; and Project Management and Paperwork.
"The cost-effective methods TSCM conveyed on how to build a company in the construction industry was of invaluable benefit to anyone who attended," said Emmanuel Marable, CEO of E.I.M. Services, a 2013 TSCM graduate. "The program provided me the opportunity to build strategic relationships. I am now 24 years-old and in a position to be a developer of specific innovative construction projects, collectively valued at $25 million. All is a result of the training I received at the Turner School of Construction Management."
Lisa Williams, Principal of Cap8 Doors & Hardware, also graduated from last year's TSCM and mentioned, "My previous experience as a Management Consultant and a business owner in the real estate industry did not fully prepare me for the complexities that awaited me when I entered the construction industry. Turner's School of Construction Management filled many of the gaps that existed."
In 2013, the Washington, DC course had 101 graduates. Turner has previously held TSCM programs in Prince George's County, MD, Richmond, VA, and other locations across the nation. Many graduates of the TSCM have performed work with Turner to provide design and preconstruction services to clients.
There are currently 28 spots left for 2014 Turner School of Construction Management. To register, please visit our event website here. Registration ends March 26.
About Turner Construction Company
Turner is a North America-based, international construction services company. Founded in 1902, Turner first made its mark on the industry pioneering the use of steel-reinforced concrete for general building, which enabled the company to deliver safer, stronger, and more efficient buildings to clients. The company continues to embrace emerging technologies and offers an increasingly diverse set of services. With an annual construction volume of $9 billion, Turner is the largest builder in the United States, ranking first in the major market segments of the building construction field, including healthcare, education, sports, commercial, and green building. The firm is a subsidiary of HOCHTIEF, a publicly traded company, and one of the world's leading international construction service providers. For more information please visit http://www.turnerconstruction.com.
About HOCHTIEF
HOCHTIEF is one of the most international construction groups worldwide. The company delivers complex infrastructure projects, in some cases on the basis of concession models. The Group operates in the transportation infrastructure, energy infrastructure and social/urban infrastructure segments as well as in the contract mining business. With nearly 81,000 employees and a sales volume of more than EUR 25 billion in FY 2013, HOCHTIEF is represented in all the world's major markets. With its subsidiary Leighton, the Group is market leader in Australia. In the USA, the biggest construction market in the world, HOCHTIEF is the No. 1 general builder via its subsidiary Turner and, with Group company Flatiron, ranks among the most important players in the field of transportation infrastructure construction. Because of its engagement for sustainability, HOCHTIEF has been listed in the Dow Jones Sustainability Indexes since 2006. Further information is available at http://www.hochtief.com/press.