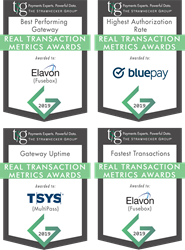 GEM provides true 'apples to apples' benchmarking for leading payment gateways -- Mike Strawhecker, Partner
OMAHA, Neb. (PRWEB) July 17, 2019
The Strawhecker Group (TSG) is pleased to recognize a selection of payment gateways for their exceptional performance across several key areas, critical to a successful payment platform.
Powered by TSG's Gateway Enterprise Metrics (GEM) platform*, GEM monitors real transactions from two U.S. locations and pings 24/7/365 from over twenty different U.S. and global locations. All transaction metrics are calculated by utilizing real TSG cards, at real TSG merchants, to complete transactions.
"By running real transactions, GEM provides true 'apples to apples' benchmarking for leading payment gateways," says Mike Strawhecker, Partner at TSG. "With this insight, GEM can help gateways understand areas of improvement and, in turn, recognize them for their achievements."
See below for the winners, as well as runner-up's in each category. As the platform continues to expand its capabilities abroad, GEM expects to name a winner for global transaction performance next year. Currently, real transactions are running in the UK and more locations will be added throughout the year.
TSG will be announcing the annual 'Merchant Experience Awards' in October.
Real Transaction Metrics Awards
Best Performing Gateway – Elavon (Fusebox)
The Best Performing Gateway award is based on the GEM Index, an overall scorecard for gateway metrics based on five key areas (authorization rate, transaction success rate, transaction speed, gateway response time, and gateway uptime).
Elavon's Fusebox gateway is receiving this award due to their exceptional performance across transaction and gateway check benchmarks.
Runner-Ups: Worldpay (VAP) / TSYS (MultiPass)
Highest Authorization Rate – BluePay (Part of First Data's CardConnect Platform)
TSG tracks the percentage of authorization failures a gateway experiences each day that are unrelated to the issuer, network, or cardholder.
BluePay is receiving this award for having the highest rate of successful authorizations.
Runner-Ups: TSYS (MultiPass) / Elavon (Fusebox)
Gateway Uptime – TSYS (Multipass)
TSG pings gateways every minute from over 20 different locations (31,680 pings a day per gateway) to uncover uptime issues.
TSYS (MultiPass) is receiving this award due to having the highest uptime percentage.
Runner-Ups: EpicPay / TSYS (TransExpress)
Fastest Transactions – Elavon (Fusebox)
TSG measures the time it takes for a transaction authorization to complete using a real signature debit card, just as a consumer would experience at the merchant.
Elavon (Fusebox) is receiving this award for having the fastest average transaction speed.
Runner-Ups: Worldpay (VAP)
*GEM is the only tool in the market that benchmarks from the merchant, developer and gateway performance perspective. Current subscribers account for an estimated 66% of all payment gateway volume in the U.S. Learn more about GEM.
Companies and/or products considered for any TSG awards may or may not include clients of TSG and does not necessarily represent all companies or products in the market. This analysis is based upon information we consider reliable, but its accuracy and completeness cannot be guaranteed. Information provided is not all inclusive. All information listed is as available. The Strawhecker Group (TSG) is not and/or may not be endorsed, sponsored by, or in any other way affiliated with the any companies or their logos illustrated in this presentation. The trademarks shown are registered and their own. This document has not been prepared by any entity displayed.
About TSG
The Strawhecker Group (TSG) is a fast-growing analytics and consulting firm focused on the electronic payments industry. The company serves the entire payments ecosystem, from fintech startups to Fortune 500 companies. The firm provides its clients with advisory services, research and analytics to help them plan and execute their strategic initiatives. Based in Omaha, a recognized payments industry hub, TSG is an established leader in this high-growth, ever-evolving space. For more information please visit http://www.TheStrawGroup.com.