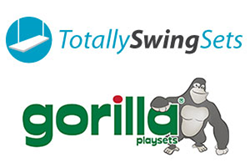 This is by far our best sale yet, customers will want to order their swing set as soon as possible to get it in time for Christmas.
West Des Moines, IA (PRWEB) November 25, 2014
Totally Swing Sets is excited to reveal a Black Friday Sale unlike any other. Beginning bright and early on Thursday morning, November 27, customers will be able to shop online from the convenience of their own home to purchase a backyard playset their kids will love. While every swing set in the store will be on sale, Gorilla Playsets will be featured and will be marked down incredibly low with savings of up to $300. These unbelievable prices will only be available until Cyber Monday, December 1st.
Nothing would make kids happier on Christmas morning than seeing a brand new playset in the backyard. And nothing would make parents happier than getting a high quality playset at an affordable price. There are numerous popular brands and models to choose from at TSS, including the Gorilla Playsets Woodbridge or Laredo, and the Backyard Discovery Alpine or Independence. Holiday shoppers will also be some of the first to get their hands on one of the newest Gorilla swing sets on the market such as the unique Café Climber or the enormous Gorilla Playsets Treasure Trove II. Owner and CEO of Totally Swing Sets, Jereme Thomas, says, "This is by far our best sale yet, customers will want to order their swing set as soon as possible to get it in time for Christmas."
With playsets of all sizes and in a wide variety of prices, Totally Swing Sets is truly a one-stop-shop for swing sets and swing set accessories. They pride themselves on their superior customer service, quality products, and everyday low prices, which will be made even better with the annual 5-day sale. Shoppers will also be able to take advantage of the standard free shipping on orders over $99 as well as the 110% price match guarantee. Every playset available at TSS is built with quality and safety in mind and is designed to last for years of fun and imagination.
Customer service representatives will be available by phone at 1-800-866-3077 every day from 7:00 AM – 10:00 PM CST during the Black Friday sale, including Thanksgiving Day. Customers can contact them with questions, to place orders, or to ask about special pricing on select swing sets via phone or through email at customerservice@totallyswingsets.com. They can also visit the website at http://www.totallyswingsets.com to place orders online 24 hours a day. Start shopping early to get the perfect gift that's too big to fit under the tree!
Totally Swing Sets
2800 University Ave. Suite 207
West Des Moines, IA 50266
1-800-866-3077
info@totallyswingsets.com
http://www.TotallySwingSets.com