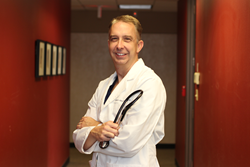 Dallas, Texas (PRWEB) April 10, 2014
T-System Inc. today announced that CMIO Robert Hitchcock, M.D., FACEP, was re-elected to the Emergency Department Practice Management Association (EDPMA) board of directors for the 2014-2015 term.
With over 20 years of experience in healthcare and more than three years on the EDPMA board, Hitchcock will bring his expertise on regulatory issues, healthcare IT and emergency department (ED) best practices. In addition to his role as CMIO for T-System, Hitchcock is also a practicing ED physician.
"I am passionate about advancing system adoption and usability to improve the quality and efficiency of emergency care," Hitchcock said. "EDPMA is one of the most influential organizations in our industry, and I am looking forward to T-System's continued opportunity to positively influence emergency medicine."
T-System was founded in 1996, and the company's executives have held EDPMA board positions since 1997.
About T-System
T-System Inc. advances the practice of emergency medicine with solutions proven to solve clinical, financial, operational and regulatory challenges for hospitals and urgent care clinics. About 40 percent of the nation's EDs use T-System solutions to provide an unmatched patient experience. Through gold-standard documentation, revenue cycle management and performance-enhancing solutions, T-System optimizes care delivery from the front door through discharge and beyond. Today, more than 1,900 facilities across all 50 states rely on T-System solutions. For more information, visit http://www.tsystem.com. Follow @TSystem on Twitter and LinkedIn, or become a T-System fan on Facebook.