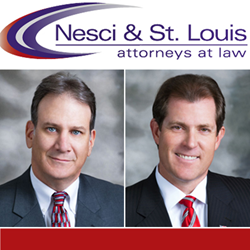 Tucson DUI lawyers James Nesci and Joseph P. St. Louis will present at the 20th Anniversary National College for DUI Defense (NCDD) Summer Session Conference
Tucson, AZ (PRWEB) July 22, 2015
Nesci & St. Louis, P.L.L.C. is pleased to announce that Firm Partners James Nesci and Joseph P. St. Louis will present at the 20th Anniversary National College for DUI Defense (NCDD) Summer Session Conference.
The NCDD 20th Anniversary Summer Session will be held on the campus of Harvard Law School in Cambridge, Massachusetts from July 23 through July 25. The conference entitled "Persuading with Professionalism" celebrates the organization's past, present and future, in honor of its 20th Anniversary. Professor Alan M. Dershowitz will serve as the conference's keynote presenter.
The NCDD is a professional, non-profit organization with over 1,800 members, which represent the most experienced DUI and criminal defense attorneys in the country. The organization is committed to their mission of improving the criminal defense bar, and the distribution of vital information to the public regarding DUI defense law.
Attorneys James Nesci and Joseph St. Louis will co-present two of the seminar's sessions entitled: "Defeating Blood Tests: Bad Blood From the Vein to the Lab" and "Defeating Blood Tests: The Essentials of Headspace Gas Chromatography."
Tucson DUI lawyer James Nesci obtained his J.D. from The University of Arizona College of Law. Nesci is rated AV Preeminent by Martindale-Hubbell and was named one of the "Best Lawyers in America" by Woodward/White. Nesci has authored several publications regarding Arizona DUI law including: " Nesci's Arizona DUI Defense, The Law and Practice, 4th Edition," "Arizona DUI Defense: The Law & Practice, Third Edition," "MedicoLegal Aspects of Alcohol," and "How to Beat a DUI." He has been a sustaining member of the NCDD since 1999 and is also a member of their Board of Regents.
Tucson DUI attorney Joseph P. St. Louis is the only attorney in the state of Arizona certified as a Specialist in both Criminal Defense (Arizona State Bar, 2000 to present) and in DUI Defense (NCDD). He is AV Preeminent Rated by Martindale-Hubbell and has been recognized as an Arizona Super Lawyer since 2009. St. Louis has presented at numerous criminal defense educational seminars across the country. In 2014, St. Louis was selected as one of thirteen members of the NCDD Board of Regents, charged with overseeing the organization.
About Nesci & St. Louis, P.L.L.C.:
The veteran Tucson DUI lawyers at Nesci & St. Louis, P.L.L.C. have over 50 years of combined legal experience. In 2013, the Arizona criminal defense firm received the "Arizona Public Defender Association's Robert J. Hooker Award", which recognizes a firm that provides extraordinary assistance to a public defender client.
Nesci & St. Louis, P.L.L.C. represents clients with criminal law matters pertaining to DUI's, felonies, drug offenses, assault, armed robbery, homicides and domestic violence. The Tucson criminal defense law firm successfully handles cases throughout Arizona, including in Maricopa, Pima, Santa Cruz, Cochise, Pinal, Graham and Yuma counties. Call (520) 777-0235 or fill out the online contact form to schedule a free consultation with a highly qualified Arizona DUI lawyer today.